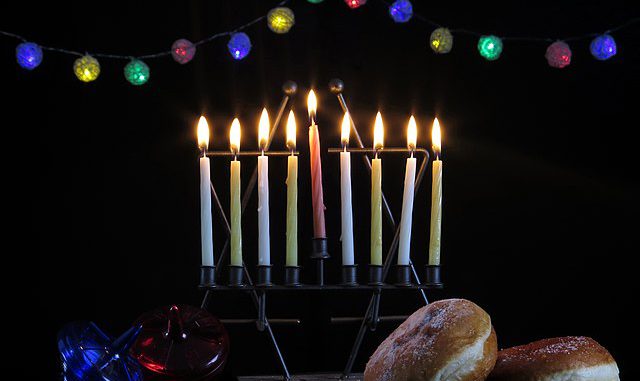 This fall semester, the Albion College academic calendar indicates that finals will take place between Dec. 11-14. Hanukkah, the eight-day Jewish holiday commemorating the rededication of the Second Temple of Jerusalem, falls between Dec. 7-15. 
Like Albion, some other Michigan schools share this overlap, including Michigan State University, which holds finals between Dec. 5-15, and the University of Michigan, which holds finals starting Dec. 8 up to Dec. 11-15. 
Em Schiffer, a junior from West Bloomfield, is a Jewish student on campus. They are also an interfaith ambassador and the president of Hillel, which according to Albion College's website, is "a club for people in the Albion College community to celebrate Jewish life and culture."
Schiffer said they were aware of the overlapping dates, and plan on hosting a Hanukkah celebration on campus before the holiday, "just so we can still celebrate it while listening to the policies that you have to end your club events on 'X' day and before finals," Schiffer said. Unfortunately this does not allow the celebration to be held on "Hanukkah proper."
"I will try to leave as early as I can after finals as per the school's protocols just so I can spend the Hanukkah with my family," Schiffer said. "I do wish I was able to be home for Hanukkah, I do enjoy celebrating it with my family."
Along with Hanukkah overlapping with finals, Schiffer said that many other Jewish holidays like Rosh Hashanah and Yom Kippur often fall on class days. They added that last year and this year, they had to attend classes during Yom Kippur. 
"Whenever there's a massive Jewish holiday on a weekday, we don't get the day off," Schiffer said. 
Schiffer said that for some of these holidays, attending classes during the day can be challenging due to dietary restrictions. They said that when observing Passover, they cannot eat anything that has bread or gluten. 
"It's definitely a challenge to go to a full day of classes while off no food," Schiffer said adding that attending classes can also make it difficult to watch or attend services.
For Muslim students on campus, a similar story is true of Islamic holidays. Maiwand Zahin is a Muslim sophomore from Kabul, Afghanistan and vice president of the Muslim Student Association. He said that last year finals fell over Eid-al-Fitr, the three-day holiday following Ramadan, a holiday which involves fasting. 
"We have a three day holiday in Muslim countries because after a month of Ramadan, there are three days off, but here I had exams during those three days," Zahin said. "It kind of is difficult to study for hours and also fasting."
Both Schiffer and Zahir said it was important to note that observing these holidays is not a must, and that students may observe them differently. They also both said they felt supported by the college in their religious practices. 
"I feel like every step forward that is needed, we have been getting it from the college," Zahin said. 
Assistant Director for Spiritual Wellness Laura Todd said that the effects of calendar overlaps like these can have a varied effect on students.
"I think on some level it is individual, but then on another level it's broader than that," Todd said. "It's hard to separate the two when you live in an area that's like predominantly, culturally, sort of Christian. There's no question that Christmas is a thing, there's Santa stuff everywhere." 
According to Associate Dean of Academic Affairs and Registrar, Drew Dunham, the process of creating Albion's academic calendar begins three years before the actual academic year. This year's calendar was the last to be approved by "President Johnson's administration," Dunham added. 
Dunham said he generates the calendar primarily based on calendars of past years. He considers things like the number of weeks needed for each semester, the length of breaks and the start and end dates of each semester.
"In the end, the Department of Education says that 'this is what defines a semester,'" Dunham said. "You have to fall within those parameters of what we're required to do by our accreditors and the Department of Education." 
Last year, the 2023-2024 calendar was modified after students objected to the shortened winter break in the 2022-2023 calendar, Dunham said. He added that because of the regulations surrounding the calendar, modifying this year's calendar at this point would be impossible, "even if we wanted to." 
After Dunham creates the calendar, it is given to the provost, then to the president and the president's cabinet, who discuss the calendar, ask questions and eventually approve it, Dunham said. 
President Wayne Webster said his office recently approved the 2024-2025 academic calendar. Webster added that there are rarely large changes to the calendar year-to-year.
"The reality is academic calendars are only going to move like a week or two this way or that way – it's not going to move dramatically," Webster said. 
Webster said that the dates of holidays like Hanukkah, Easter, Good Friday and Rosh Hashanah float, so predicting where they fall can be difficult. 
The college does have a traditional half-day on Good Friday, Dunham said previously.
Todd said that she understands why this can make working with these dates difficult – but added that education and cultural awareness are still important.
"That basically to me means making sure people are aware that (holidays) are happening and treating them as valid, even if you can't have an official day off for the whole campus for the holidays," Todd said. "It can just be meaningful for people to know you remember."
Webster said a component of this is what faculty can do for their students in recognizing their obligations outside of the classroom.
"My sense is that faculty are going to be sensitive to students that come forward and say, 'Hey I've got a faith experience, and there are certain things I can't do during these hours,'" Webster said. 
Schiffer said that they have had professors offer accommodations for religious practices on their syllabi, but noted that asking for those accommodations can be difficult.
"It's always hard to figure out accommodation without feeling called out or without calling other people out for their lack of knowledge," Schiffer said.
Zahin also said that he felt he would be accommodated if he reached out to his professors, but has never asked.
"I personally haven't reached out, I would just do my normal course load,"  Zahin said. "If I felt something was too much during Ramadan, I could definitely reach out to counseling center, or even my professor could help me out, to extend a deadline."
Todd said the college could be more proactive in supporting students observing religious or spiritual practices. Zahin said that Todd had collaborated with the Muslim Student Association to buy prayer rugs for Muslim students to use while praying. Todd said that before she asked about a prayer space for Muslim students, the college had never provided one. 
"I asked, 'Where is the prayer space for Muslim students?' The answer was, 'Oh, we think students just pray in their rooms,'" Todd said. "I was like, 'Well, just because nobody has come out and been like, 'We need to have this space' that doesn't mean that it isn't a need."
Todd said she hopes to help students get what they need from the college, without forcing students to constantly advocate for themselves and their practices. 
"I hope that my work can help to bring people to that kind of middle ground where they don't feel pressure to constantly be advocating for themselves or speaking on behalf of their marginalized group," Todd said. "But not feeling like they also just have to deal with it and not expect anything from the college."
Next year, Hanukkah begins Dec. 25 and continues through Jan. 2, overlapping with Christmas. As with every year, winter break continues through Christmas – and in this case, students celebrating Hanukkah will have the time off of school.
Bella Bakeman also contributed to reporting on this story.