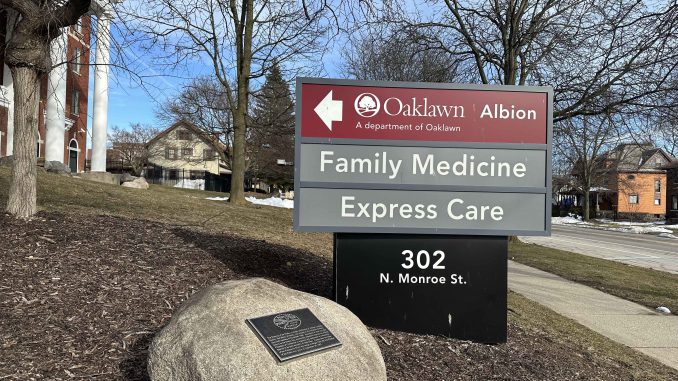 On Jan. 25, Oli Beeker, a senior from Hillsdale, had severe abdominal pains that required emergency care. After struggling with emergency transportation and receiving care from Marshall's Oaklawn Hospital,  Beeker said there are some things at that hospital, as well as Albion College in general, that need to improve.
Beeker said they are autistic and have a panic disorder. Both can cause them to require a translator because, in times of distress, they go nonverbal. When they cannot speak verbally, their partner uses sign language to communicate with them. 
On the night of Jan. 25, Beeker said they experienced a peak in severe abdominal pains that had been ongoing for a week. Beeker's partner called Campus Safety and an officer was sent over promptly. 
"He was so wonderful. He was so sweet," Beeker said of the officer. "He understood that I was autistic and knew what nonverbal meant." 
The EMTs that arrived for Beeker after a 30-minute wait, however, did not. 
Interim Director of Campus Safety, David Leib, said that Campus Safety is unable to transport students to the hospital, which is why emergency transportation is provided by the Marshall Area Fire Fighters Ambulance Authority.
"We're not prepared to render aid at 70 miles per hour going down the highway," he said. "We don't have those types of facilities like an ambulance does. 
Beeker said their interactions with the EMTs were disparaging. 
 "They were extremely condescending with my sensory issues," Beeker said. "Nobody understood what a sensory issue was. Nobody understood autism."
Beeker said their experience in the ambulance and the Oaklawn Emergency Room was invalidating. Beeker said they felt Oaklawn's staff to be condescending, leaving them feeling "horrible."
After Beeker's treatment was completed, they had no method of transportation back to campus – just under 12 miles away. They texted their friend Khalila Simon, a first-year from Pontiac to see if they knew anyone who could pick them up.
Simon couldn't find Beeker a ride, and called Campus Safety at 11:51 p.m., asking them to pick Beeker and their partner up from the hospital.
Simon said that Campus Safety dispatchers were sorry, "but they didn't have the staff to be able to send someone to go get them."  
Campus Safety told Simon they could send someone over around 8 a.m. when they had more staff. Beeker's parents were able to pick them up and drive them back to campus, arriving around 3 a.m.
Beeker said they wish Campus Safety had more staff to accommodate students going through medical emergencies.
"I don't think it's too much to ask from a college to have enough staff to run your students back to campus from the hospital," Beeker said.  "The staffing issues are so extreme; we need to have people at Campus Safety." 
However, they do not place the blame for this situation on Campus Safety. They said that every officer they have met has been very kind and helpful. 
"It says a lot that the campus safety officers are good people," Beeker said. "It's not their fault that they're not staffed." 
Leib said that Campus Safety generally does take students back from the hospital, but are not prepared to do so in the middle of the night.
"The only thing that ever delays that is if we have numerous other calls for service like fire alarms going off or other medical issues going on," Leib said. 
Leib also said that if a student thinks they may need emergency medical attention, they should first call Campus Safety so they can assess the situation. Officers are prepared for many medical situations that may occur on campus which do not require an ambulance.
"We're all CPR, first aid and AED trained," Leib said. "A lot of our employees come from a background of being either volunteer firefighters or were an EMT at one point." 
However, Leib said that in a situation where a student is certain that they need emergency medical attention, they should first call 911 and then Campus Safety so that they can help facilitate building access or directions for the EMTs. 
Brenna Staley also contributed reporting to this story. 
Correction – March 14, 4:01 pm: This article has been edited to reflect that Oaklawn's Albion facility is not suitable for emergency care and that emergency transportation is provided by Marshall Area Fire Fighters Ambulance Authority, not Oaklawn Hospital.