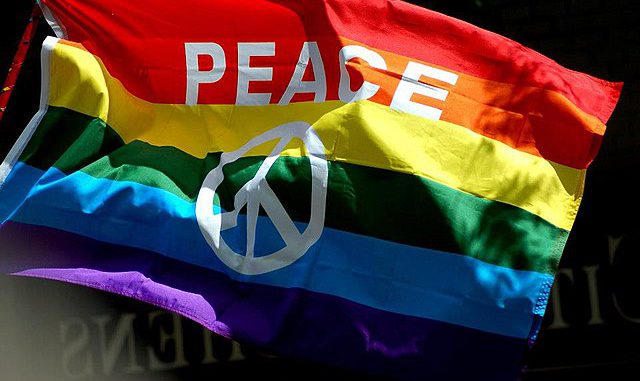 Less than 40 miles south of Campus, rights are being stripped from LGBTQ+ youth. Nearly a third of Albion College students are from out-of-state, many from Indiana. Three bills have recently passed Indiana's House and Senate that diminish the rights of LGBTQ+ youth. During times when human rights are under attack, it can be difficult to stay informed, but crucial in order to be an effective ally. Here is what you need to know:
The Three Bills:
Effective: Upon passage.
Senate: Passed.
House: Pending.
What is it?
This bill, which states that the government "may not regulate the performance of behavioral health and human services," would cement the legalization of conversion therapy in Indiana. 
According to The American Psychological Association, the largest organization of scientists in the United States, conversion therapy is the pseudoscientific attempt to "convert" or change a person's sexual orientation or gender identity through psychological – and sometimes physical – treatment. They have deemed conversion therapy to be ineffective and harmful. 
This degrading and ineffective process is said to leave both physical and psychological damage to its victims. According to a study by the UCLA Williams Institute, cisgender queer people who experience conversion therapy are twice as likely to attempt suicide. The blatant overlooking of this fact by Indiana governors is equally terrifying and reckless. While consistently proposing bills in the name of "protecting children" these same leaders completely disregard the advice of medical professionals who advise against these bills.
Regardless of the lack of evidence for any effectiveness in this practice, and every major United States scientific organization condemning it, the Indiana Senate has continued to fight for it.
On Feb 28, Sen. Ron Alting, R-Lafayette, who voted for the passing of this bill, said that local governments should not censor "what a house of God can do in counseling," while on the house floor.
What does this mean?
If this bill passes the House, the livelihood of LGBTQ+ youth is put at stake. It will be more difficult moving forward to put protections in place for children abused by this practice. States that legalize conversion therapy create a hostile environment for queer people and discourage children from being comfortable in their own orientations and identities, putting them at a much higher risk of suicide, according to The National LGBT Health Education Center, a program of the Fenway Institute. 
Senate Bill 480 (Gender transition procedures for minors)
Effective: July 1, 2023
Senate: Passed
House: Pending
What is it?
Senate Bill 480 effectively prohibits transgender youth from obtaining gender-affirming care. 
While gender-affirming care looks different for everyone, the Human Rights Campaign states that "transgender children are not undergoing irreversible medical changes." Their website states that all professional medical organizations call for age-appropriate gender-affirming care. "Age-affirming care" has been repeatedly misconstrued by republicans as "literally chopping off the private parts of young kids.", as Ron DeSantis put it on August 4, 2022, during a press conference. However, that is far from what is happening and is nothing but a form of fear-mongering. According to the Human Rights Campaign most treatments minors receive – such as puberty blockers – are fully reversible. 
Not only that, but these treatments are medically necessary, and in some cases can reduce the risk of suicide by 70%, states the American Academy of Pediatrics. Restricting youth's ability to receive medical care is a clear infringement upon human rights. 
Sen. Tyler Johnson, R-Leo, a co-author of the bill, claims it is the government's responsibility to protect kids from harm, and that gender-affirming care is not in the best interest of the child. However, this still shows either blatant disregard or willful ignorance against the advice of most medical professionals. 
You can read more from The Human Rights Campaign on Bills 350 and 480 here.
Effective: July 1, 2023
House: Passed
Senate: First reading complete
What is it?
Prohibits teaching "human sexuality" to grades kindergarten-third. Originally, the bill banned discussion of gender fluidity, roles, stereotypes, identity and expression along with sexual orientation. While the change in this section was a win for LGBTQ+ advocates, the House added an additional chapter. 
This chapter requires schools to out trans youth to their parents/guardians if they request to use a name or pronouns "inconsistent" with their birth sex. It also complicates the process for students wishing to change their name and pronouns even with parental permission, along with prohibiting punishment of teachers who misgender and dead-name students. 
What does this mean?
This bill puts the safety of trans students at a huge risk. Outting trans or nonbinary children to their parents significantly increases their chances of homelessness and domestic abuse. 
"Homelessness and housing instability were reported at higher rates among transgender and nonbinary youth, including 38% of transgender girls/women, 39% of transgender boys/men, and 35% of nonbinary youth" according to  the Trevor project. 
The risk of an unsupportive community is high and is credited to why LGBTQ youth are four times as likely to attempt suicide than their heterosexual, cisgender peers, according to the Trevor Project. However, even having one supportive adult in their lives can reduce the risk of suicide by 40%. This bill estranges students from their teachers and keeps them from forming safe, supportive relationships. 
What does this mean for Albion students?
Maggie Vongsa, a first-year from Elkhart, Indiana, said they fear for what life will be like back home. 
"I have a lot of friends back home that identify as trans, or use they/them pronouns," Vongsa said. "Now, hearing about this, I'm scared of what they're feeling." 
Vongsa said it was "scary" that their friends might no longer be seen as human.
She also expressed how things are already difficult as a queer person back home, and fear that this increase in anti-LGBTQ+ bills is an attempt to remove queer people from society.
Gray Willig, also a first-year, said even though they take pride in who they are, and think being queer is a beautiful thing, they hope their young friends and family are straight. 
"I'm scared for them," they said. "I just want them to have an easier life than I did."
Tennessee recently banned public drag performances and prohibited certain gender-affirmative care under House Bill 1. And, according to ABC News, several more states are proposing and passing bills to prohibit this care as well, including Utah, Mississippi and Florida. 
The American Civil Liberties Union states that at least 389 anti-LGBTQ+ measures have been introduced as of March 8, which is more than the past five years combined.
This is a direct attack on human rights. People's lives and safety are in jeopardy now. If you love someone who is queer or you consider yourself an ally in any form, I urge you to reach out to the sponsors of these bills. Even a quick email can make a difference. Even in our busy days, taking five minutes to potentially save a kid's life and defend the rights of queer people in our country, is well worth our time. Here is a link to find your state representative, and the emails at which to contact them at, or, you can choose from a few representative bill sponsors here:
Representative Joanna King – Email: h49@iga.in.gov
Senator Stacey Donato – Email: Senator.Donato@iga.in.gov
Senator Jeff Raatz – Email: Senator.Raatz@iga.in.gov