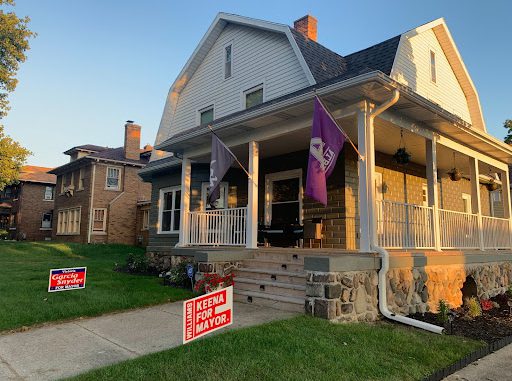 Albion College Alumna and Former Chief of Belonging Officer for the college, Keena Williams, is running for Albion's mayoralty this coming Election Day, Nov 8. Williams will be challenging incumbent Mayor Victoria Garcia-Snyder who was elected to the position last election cycle in 2020.
The Albion mayoral race will also be coinciding with the midterm elections, with 34 Senate seats and 36 gubernatorial seats being up for election, including the governorship of Michigan.
Many Albion students will be familiar with the name Keena Williams as she became Albion College's first Chief of Belonging Officer in 2020. Williams has only recently stepped down from her position at the college earlier this year to run for office.
Williams' tenure as Chief Belonging Officer was particularly notable, not only due to the novelty of the position but as a consequence of the broader issues plaguing Albion College during the 2020-21 school year. 
Williams, a lifelong native of Albion, said she is running because she hopes to unite the city."I've been engaged on the periphery for a number of years. I continue to see a community that needs some healing, that needs a unified voice, that needs a shared vision. I think I can bring those things to our community." 
"When I say that I think we need unified voices and a shared vision, I think we need a strategy around economic development, infrastructure – civic engagement that our entire community can see themselves in."
Civic engagement is a goal of not only Williams but Albion College students as well, who themselves are also members of the Albion community despite coming from different parts of the world.
Kearney Miller, Kalamazoo sophomore, like many college students, will be voting this November.
"Albion College has helped foster civic engagement by connecting me with the community of Albion while also providing me with opportunities for volunteering and learning," said Miller, "I have learned the value of civic engagement not only in the classroom but also applying it to service opportunities and other experiences out in the community." 
"Local elections typically have more of a direct impact on your daily life in your community so it is critical to stay informed on what is happening closer to you," said Miller.
Albion students are involved in political student-run organizations that often work with the local Albion community, although there is thought to be a divide between the town and the college.
"The Town-Gown divide is real," said Williams. "A part of me running is like the knowledge that I function in both of those spaces."
"I don't think a lot of us or a lot of folks across our community identify Albion as a college town, but a town with a college in it," Williams said. "I think there are ways and spaces that the college should step up and be a partner. I also think that there are spaces where the community has to lead." 
Albion students like Miller, who is also a member of the Ford Institute of Public Policy, also commented on what civic engagement and students in political organizations mean to them. 
Miller said she feels that these political and community-focused organizations can facilitate a healthy community. "These spaces can provide a place for growth and discussion for us all to learn from each other, as well as direct ways to get involved. It becomes a lot more tangible to take action when there are real opportunities to do so." 
Residents of Albion will have the opportunity to vote for the next mayor on Nov. 8.