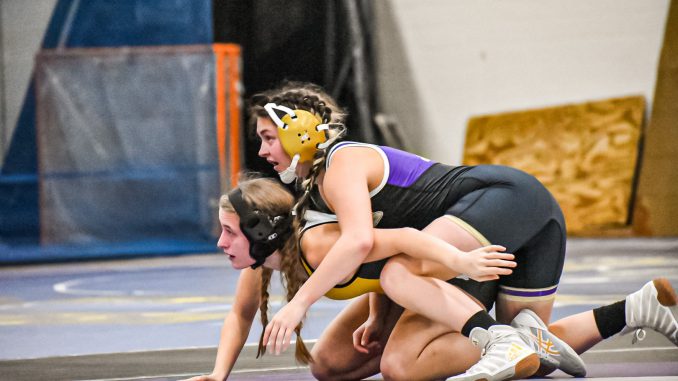 Albion's newest athletic program, wrestling, got off to a great start in their first official season. Two members of the women's team, Jayla Oberst, Jackson first-year student, and Sam Parcell, Huntington Beach, Ca. first-year student, both qualified to compete at the Cliff Keen National Collegiate Women's Wrestling National Championships on March 4 and 5. 
The wrestling program, which previously was only available to men, was disbanded over 40 years ago and brought back in 2021. 
Since the program restarted, the men have also been successful. Two wrestlers for the men's team, Ben Kamali, Lansing first-year student, and Owen Miller, Marshall junior, earned All-MIAA honors and individual conference titles. Miller, like Parcell and Oberst, also qualified to wrestle for a national championship.  
The women's success on the mats this season is a huge accomplishment to the team. Two-thirds of their team qualified to compete for a national title.  
The National Championships were held at Adrian College, a familiar setting for Albion wrestlers. Parcell said that the competition for the National Championships was both exciting and disappointing. 
The Brits fell short of a national title, but Parcell sees the loss as a place to find determination. 
"Losing is certainly motivating. It's a drive to work harder and get better," Parcell said.
Despite what many would call a good season, Albion wrestlers look forward to improving the program. 
The wrestling team began the 2021 season by practicing on mats rolled out in the tennis center because they did not have a wrestling room. They did not have a locker room for the first half of their season. 
At practice, Parcell and her two women teammates regularly wrestle their male counterparts and even their coach. Regardless of gender, Briton wrestlers work together. 
"It's like a big family," Parcell said. 
But, the team's small numbers have forced them to forfeit matches occasionally, costing the team points. 
"We smacked Trine but we didn't win because we had so many forfeits. Had we not had those forfeits, we would have demolished them." Parcell said. 
When they were able to compete, they earned a reputation among their contenders for being fierce. 
"I think we made a statement in our first season. There are a lot of teams in our conference that are scared of us," Parcell said. 
This fall, the Brits look forward to a full recruiting class – a move that will save the college from points forfeited for lack of wrestlers. 
Recruiting is handled by the head coach, Adam Wilson, who also serves as the head coach for the men's team. Wilson has created a tight-knit community among Albion wrestlers. 
Parcell said that Wilson is the reason that she chose to come to Albion from California. 
"Other coaches and recruiters read from a script, but Adam just seemed honest," Parcell said. 
Wilson, like his wrestlers, aims to work hard through adversity. On top of coaching two collegiate wrestling teams, he has a set of two-year-old twin daughters with extensive medical history. Wilson and his family have found ways to fold their lives into Albion wrestling. 
"Building a program from the ground up comes with some hurdles," Wilson said, via email. "But we have everything we need to win." 
With successful seasons from both teams, Wilson believes the future is bright for Albion wrestling.
Wilson's goal for the future is clear.
"There has never been a sub-division one program in the State of Michigan to ever bring home a team trophy from the National Tournament (and there has never been a team to do it in both genders)," said Wilson, via email. "We will be first."