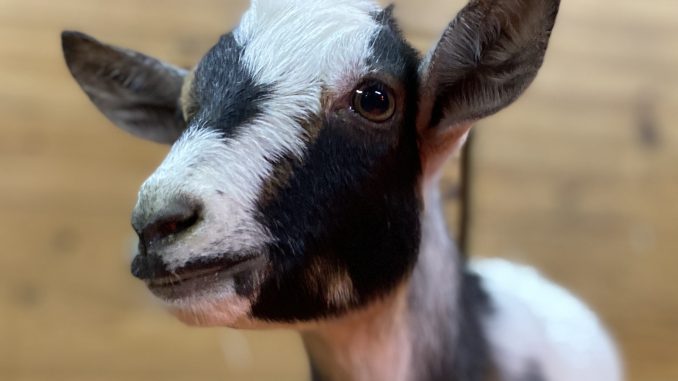 In the spring of 2021, Albion College welcomed two goats, Duff and Clancy, to campus. Duff and Clancy were first introduced to the Albion Community as therapy animals. They were meant to serve as a part of a project similar to that of The Philly Goat Project. 
The Philly Goat Project says their mission is to, "celebrate the dynamic and delightful capacities of goats by building community, while creating sustainable, engaging, and educational opportunities." Due to Albion city ordinances, the project did not pan out as the college had hoped. 
"We had originally hoped to develop a program like the Philly Goat Project, but early on, it became clear we would not be able to house them on campus due to city ordinances, so we shifted to employing the goats to clear poison ivy and invasive species at the Nature Center," said  Shannon O'Neill, associate dean for student success. 
According to Susie Pentelow, executive director of communications and marketing, the college purchased the pair without a definitive long-term plan for the goats. 
"This was an experimental program, so the purpose of having the goats on campus was to determine if it would be a successful long-term approach," said Pentelow, via email. 
As a part of the invasive species control project, the college wanted to see if the goats could be a viable option for clearing and controlling invasive species in the Whitehouse Nature Center. The goats were found to not be a cost-effective way of being able to control invasive species in the nature center. 
"After a thorough cost-benefit analysis, it became clear that this was not the most efficient way to manage invasive species, and so the goats were relocated to a local petting zoo," said Pentelow, via email. 
The goats departed Albion's campus on Aug. 30. They are now living at Lowry's Little Flock Farm, a petting zoo located in Horton. 
The college's ownership of the goats has been a point of contention between college administration and some of those in the Albion College community. The goats were mentioned in a recent petition calling for the removal of President Johnson. The petition claimed that the goats were kept "on campus despite city laws" and "in kennels." 
These accusations were refuted in a communication sent campus-wide on Sept. 16, instead saying that the goats were housed in the equestrian center before being relocated to the nature center. 
A report was also recently made to Albion City officials claiming that the goats are being held in a shed behind President Johnson's house, according to O'Neill, via email. No further information has been made available.