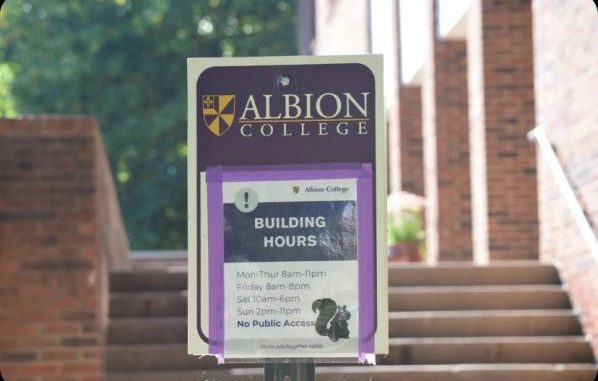 Easter is an important holiday to Christians. As the day when Christ rose from the dead after sacrificing himself for humanity, it creates the foundation of the Christian faith. It is a day to celebrate, and attending church is a big part of that celebration. Students at Albion College who celebrate Easter do not yet know whether they will be allowed to go off-campus to church or home to celebrate the holiday with their families on Easter Sunday. 
Augusta Schmidt, area coordinator for Seaton Hall, said that Residential Life will be having a discussion about this subject soon.
"As a team, the area coordinators are taking all requests to leave campus very seriously. As such, we plan to have a meeting to discuss approving students to leave campus for these religious holiday obligations, but we want to include a few of our campus partners," said Schmidt via email.
Jayden Vanmaurick, a junior from Holland, said that it would make sense for Christian students to be allowed off-campus on Easter since it is such an important holiday for them.
"I know with a lot of the restrictions about people leaving campus, one of the exemptions and exceptions the college does make is if it is a religious thing that people must attend to," said Vanmaurick. "I feel like that could be one of the rationales to let people go to church on Easter."
Rev. Donald Phillips, the college chaplain, said that COVID-19 has caused Christians to re-evaluate the importance of gathering together when their safety is at risk.
"Easter is the highlight if you will or the high point of the Christian faith. It's the pinnacle, if you will, of the Christian calendar, even more so than Christmas. So, as persons wrestle with this tension — we've had to, I know I've had to personally, and also with others — to rethink what it means to be in community," said Phillips.
Phillips also said that, unlike most things throughout the pandemic, this situation is not unprecedented. The Christian community has been through something like this before, back when Christianity first started.
"This is more like the early church than ever before. Even though we might feel like we're not all together, the early church wasn't either, but we're together in this hope and this faith and this belief," said Phillips. "These things connect us beyond space and time."
In order to bring people together, Phillips said that the Albion Ministerial Association is holding online services for the Lenten season and is putting together a Good Friday service. All of these events are open to the public.
"Wednesday's throughout the season of lent we're gathering virtually via Zoom and have a short fellowship, sharing with each other. And then, again a minister will share a meditation," said Phillips. "The plan [for the Good Friday service] thus far is the clergy and the pastors will be in person. It will be basically a live stream at a local church, but then the general community will be able to access that livestream via FaceBook or YouTube or whatever means we're doing. That way, we still can give people opportunities to connect but in a safe way."
Though the church is doing everything it can to maintain a semblance of normalcy this Easter, according to Aubrey Spears, a senior from Chicago Ill., attending an online service is more challenging. Spears said that a busy college schedule is the reasoning for this. 
"You're home in your bed, and sometimes, church is at 10 a.m., 9 a.m.,and it depends on your activities the night before," said Spears. "You might not have the same energy as you would in person." .
If students are not afforded the option to go home for Easter this year, they do have other options on campus to celebrate the holiday and be in community with other believers in order to keep their spirits up despite having to alter traditions. In addition to seeing what online services the Albion Ministerial Association has to offer,  students can attend Albion College's chapel services on Wednesday nights, which are usually in-person.
"instead of focusing on what we have lost, focus on the opportunities to be intentional and to be grateful," said Phillips. "Easter is about a celebration of new life and of hope."