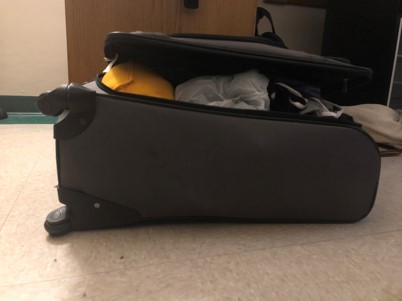 Albion College is a campus full of students who are from all around the world. We pride ourselves in being diverse and inclusive, but this year is making it very hard for everyone to feel heard.
This year, a significant change was made: students are unable to stay on campus for winter break, per official statements from Reslife. All students were expected to leave campus by Nov. 25. 
As of Nov. 12, however, the Office of the President sent out an email stating that students must leave campus to go home by Nov. 14, unless students had an "exceptional circumstance," like a scheduled plane, bus or train ticket that could not be changed.
Neither of these options give students the choice of staying on campus any later than Nov. 25, which is different from other years. Students used to be able to stay on campus for winter break, but now that they have no choice, they are driven into high gear in order to find ways to get home safely.
Some students feel that the decision to move quickly into dismissing students off campus wasn't the best decision, and many are concerned about their academic stance as their environment has switched.
"Trying to stay in school mode while at home is hard because you fall back into a routine of being at home," said Shania Davis, a senior from Detroit. "With the semester winding down, it's already hard enough, so for us to be evicted so soon, it shakes things up for some students, forcing us to adjust back home and our busy lives and the remaining world from classes."
Other students were concerned about their loved one's health as they transitioned home for the break.
"Very insensitive that the college that was so persistent with COVID protocol refused to test people before returning home to their families–some with elderly people and children putting those at home at risk," said Angelina Mendieta, a sophomore from Toledo, Ohio.
Some students felt a sense of familiarity with the early go home action.
"Shoving everyone out without tests in order to not let the numbers reflect poorly sounds a lot like something the previous POTUS did, and I wanted to expect better from Albion," said Marlo Scholten, a senior from Hudsonville.