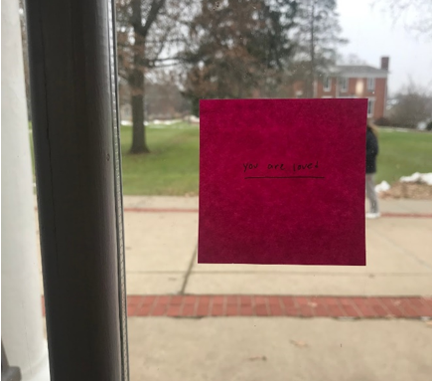 With the recent loss of Zach Winston, a prominent member of our campus and our community, and with it being a high point in the semester for stress, today's articles are being released together with the idea of taking care of oneself and others in mind.
Being in college is not a walk in the park. Essays, exams, extracurricular activities, jobs and other responsibilities pile up and may make it seem impossible to climb that academic hill while juggling life outside of school. This is exactly what makes college students so resilient: Being able to conquer the invincible and then do it again the next day. 
However, some days are harder to conquer than others, and it's okay to admit that. We need to admit that. On those hard days, think of your brain as a complex computer. If your computer is overheating, lagging or not connecting to the interwebs, punching a hole through the screen will only make the problem worse. Instead, shutting down the computer and letting it cool down will most likely give you a functioning computer for later use. 
It may be difficult to get your computer, your mind, to slow down, especially if you have a lot of tabs open. Thankfully, there are some tips and tricks that can help slow it down so that you may have some peace. 
Here are some therapist-approved helpful and effective strategies:
Take a walk
Like I said before, college may not be a walk in the park, but taking a walk in the park, either by yourself or with a friend, may help ease symptoms of anxiety and depression. 
Anxiety is often shown in physical symptoms (i.e. rapid heart rate, rapid breathing, sweating, or gastrointestinal problems), so one of the best ways to ease these symptoms is through a physical response. Walking creates a distance between you and the problem causing you anxiety or depression, thereby allowing you to have a free headspace. 
Walking also releases endorphins, or "feel good chemicals," in your brain that can calm depressive symptoms (i.e. irritability, fatigue, loss of interest).  
Color 
Although this may seem silly, coloring has been shown to slow overthinking and calm anxious/depressive thoughts. 
The amygdala, the fear center of the brain, relaxes once you start to color, inducing a meditative-like state. This allows the brain to take a break from racing thoughts, allowing you to focus on tasks much more easily. There are free coloring sheets you can print out and color when you're feeling anxious, stressed or depressed here.
Listen to music 
Music has been one of the most popular and efficient coping skills, considering it does a great job at reducing symptoms of anxiety and depression, along with boosting the immune system. But there's also a caveat: it has to be done right. 
Yes, you can listen to music incorrectly. Some people use music as a way to feel less alone in their emotions or mental illness, like listening to a song about depression when they're in a depressive state. Some people use music as a way to ruminate on an emotion, like listening to loud metal music when they're angry or frustrated. 
Both of these methods may work in the short-term, but they can actually worsen your mental state in the long-term. Instead, "diversion," or using music as a distraction from your current emotional state (i.e. listening to upbeat music while anxious or depressed), can help improve your mood, both in the short-term and the long-term.  
For a chirpy, cheery Spotify playlist, click here.
Spend some time with an animal 
Things seem a little better when cuddling a furry friend. Multiple studies have shown that spending time with an animal, predominantly a dog or cat, eases symptoms of anxiety and depression and diverts attention away from stressful situations. 
On Albion's campus, there are three therapy dogs available for students to spend time with: Kolt in the Campus Safety office, Kai in the Education Department located in Olin Hall and Sunny in the Honors Building. During normal business hours, you can find Sunny and Kai in their respective buildings. You can find Kolt in the Campus Safety office during posted hours on flyers around campus. 
If you don't like, have a fear of or are allergic to animals, this coping skill may not work for you. For those allergic to dogs or cats, there are always alternative animals to spend time with (i.e. turtles at the Whitehouse Nature Center).
Practice self-care 
This can mean a variety of things for different people. In general, take care of your body and mind, even if it's just simple care. Take a long hot shower, bake some cookies, watch your favorite TV show or movie, meditate, stretch your muscles, try aromatherapy. The list goes on. Do whatever helps you, in a healthy way, distract yourself from the stressful, negative or anxious thoughts you're having, even just for a little bit. 
For a more comprehensive list of self-care activities, click here.
Therapy
Everyone and anyone can benefit from seeing a therapist, even if you're not having a crisis. Having someone to talk to that harbors no judgment can ease your mind and help you work through some difficult situations. 
There is absolutely no shame in seeking out mental health services. Seeing a therapist is just like seeing your primary physician for a check-up. Albion's Counseling Services Center provides mental health services for every student and is open from 8 a.m. to 5 p.m., Monday through Friday. If you're having an emergency outside of normal hours, you can reach the emergency therapist through Campus Safety, (517)-629-1234.
Use Mental Health Apps
Therapeutic services are available on your phone if you're uncomfortable with seeing a therapist in person and need some guidance to get you through a difficult time. These apps are approved by licensed psychologists from the Anxiety and Depression Association of America. 
These are to be used when you're not in crisis or in the midst of an emergency. If you or someone you know are in crisis or an emergency, please contact Campus Safety at (517)-629-1234, or these alternative resources:
National Suicide Prevention Lifeline: 1(800) 273-8255 (

https://suicidepreventionlifeline.org

)

Mental Health Association in Michigan: (248) 647-1711

Summit Point – 24 Hour Crisis: 1(800) 632-5449

Summit Point Youth Mobile Crisis Team: (269) 441-5945

Crisis Text Line: Text HOME to 74174