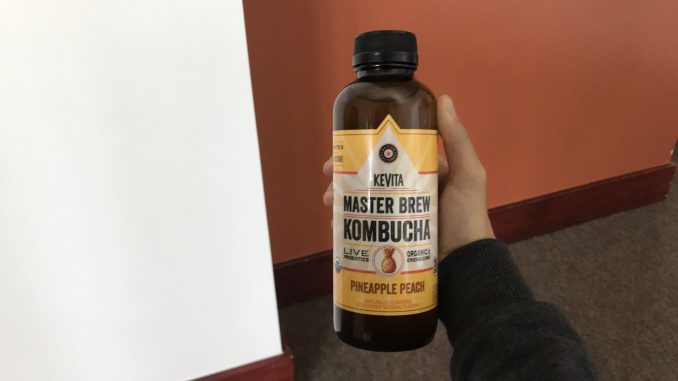 Food fads are nothing new.
Sushi now comes in many different forms, ranging from donuts to burritos. Some foods, particularly ice cream, now come in "unicorn" colors, a fancy way of saying rainbow, while others come in charcoal. Classic foods, like lasagna, now come in a deconstructed style, because I guess eating noodles, marinara sauce and cheese together is antiquated. Now, the "cool" way to eat them is separately.
While many food fads come and go, one of them is here to stay: Kombucha.
Some of you out there roll your eyes at this. You wonder how people can enjoy a bitter, vinegar flavored drink. You wonder how they can stand the feeling of carbonation as the fermented tea-based drink bubbles on their tongues. 
You have preconceived notions about kombucha because you assume it's just like any other old fad: temporary. You judge kombucha the way I judge a deconstructed lasagna. But, unlike a lasagna that has already been deconstructed, there's more to pick apart when it comes to kombucha.
How long has this stuff been around?
While you might think kombucha was invented in recent years solely for health gurus and hipsters, that's not actually the case. Kombucha is thought to have originated in China approximately 2000 years ago. Records date back to 221 B.C., when kombucha was referred to as the tea of immortality.
Cool, but…What is it?
Kombucha is a fermented green or black tea made with something called kombucha culture, a mixture of live bacteria and yeast otherwise known as scoby. 
Similar to how kombucha is made with kombucha culture, scoby is actually an acronym that stands for symbiotic culture of bacteria and yeast. The takeaway? When it comes to what ingredients make up kombucha, things are pretty straightforward. 
Bacteria: Isn't that gross?
Not when it's good for you.
As the scoby digests, it produces sugar. This goes on to create a long list of acids that, aside from amino acids, my chemistry for the non-science major course did not cover in-depth enough for me to understand. What I do understand, however, are the vitamins that are also produced in the digestive process. In addition to the plethora of acids, the decomposing bacteria release vitamins A and C along with B vitamins B1, B6 and B12. 
What's more is that while kombucha contains bacteria, according to Healthline, it also kills bacteria. While this might seem counterproductive at first glance, it's not. Acetic acid, which gives kombucha a taste similar to that of vinegar, works to kill off bad bacteria in your gut. What it doesn't do is kill off scoby, the good bacteria within the effervescent drink, or detract from kombucha's natural probiotic properties.
What's so important about gut health, though?
The thought of gut health tends to allude to thoughts of digestion, but we won't get into that. What we will get into, however, are all the things that are unexpectedly associated with what goes on in your digestive tract.
According to Time Magazine, the gastrointestinal system has been linked to many different health related issues in recent years, ranging from anxiety to many different chronic illnesses, such as Type 2 diabetes and various forms of cancer.
So, maybe it's a little bit gross to think about scoby swimming around in your gut, but it's doing some good work in there. 
How do different kinds of kombucha compare?
When it comes to good old 'bucha, the list of brands and flavors is nearly endless. When it comes to popularity, GT's and Kevita are probably the most popular brands, each with a vast variety of different flavors.
With each bottle selling anywhere from $2 to $5, depending on where it's sold, maybe that seems like a major hit to a college student's already dwindling bank account. When it comes to kombucha, though, the pros outweigh the cons.
But if the ticket price is too high to gain approval in your budget (because honestly, that's fair), you're in luck. There are plenty of ways to brew your own kombucha in order to get your fix.