In the midst of a new semester, Baldwin decided it was time to try something new and tasty. On Wednesday, Sept. 18, 10 student contestants participated in Albion College's first Iron Chef competition, sponsored by Bon Appetit, Sorority and Fraternity Life and the Office of Residential Life.
"[The competition] will be a great way for the staff and the kids to bond," said Daniel McCasey, head chef of Baldwin. "It will show them what it takes to put out meals on a large scale. The competition aspect of it makes it all the more urgent, and I think they'll have a blast with it."
Training
A week before the competition, several Albion students signed up for Bon Appetiet's Iron Chef event and completed a safety walk through of Baldwin's kitchen. 
As the students lined up to walk through the tiled floors of the large kitchen that houses three walk-in freezers and multiple stove tops, shouts came from every direction. With a bustling kitchen full of dining staff preparing the evening meal for a campus of 1,500 students, the atmosphere for the competition was set. 
"In the kitchen, each knife has a purpose," said McCasey. "Also, assume most surfaces are hot, and you'll always be better off."
During training, McCasey explained the general rules of the competition, noting that students cooking for the competition would ultimately be feeding the first few hundred students who walked through the door. Each contestant would be assigned a station in Baldwin (Sizzle, Classic or Global) and teammates. On competition day, a secret ingredient that each team would use to construct a recipewas revealed. Once the competition began, participants would have 90 minutes to prepare six plates for the six judges. 
As contestant's moved around the kitchen, Baldwin staff members were still responsible for doing their jobs, making sure the dinner menu was out on time. So, to make up for loss of space, contestants were also responsible for making their dishes in a large enough quantity to be put out on the front lines for that evening's dinner menu. 
"The staff is a little apprehensive, in a good way, because they are very proud of what they do and aren't sure what to expect with the kids," said McCasey. 
Competition Day
Contestants trickled into Baldwin around 3:30 p.m. on Sept. 18, competition day, to prepare the menu.
Participants chose their teammates, subsequently drawing what station they would be manning from a hat. After days of suspense, the secret ingredient, purchased by President Mauri Ditzler, was revealed: Apples.
Sizzle Station
A group of four students, including Adriana Maclas, Jaylen Shepard, Jada Stewart and Nia Hope, all sophomores from Chicago, IL, made up the Sizzle Team for the competition. The four contestants at the Sizzle Station prepared applesauce to complement barbeque pulled pork sandwiches. Led by First Cook Dale Duhaime, the Sizzle Station was off to a competitive start. 
Classic Station: People's Champ
Three contestants, Jnai Honor, a sophomore from Detroit, MI, Kate Hirzel, a senior from Rochester, MI, and Megan Guthrie, a senior from Trenton, MI, made up the Classic Team. With the guidance of Lead Cook Mason Rice, the Classic Station composed a side dish to accompany pulled pork as well. Ultimately, the three girls took home the People's Champ trophy, winning with their apple and potato hash brown.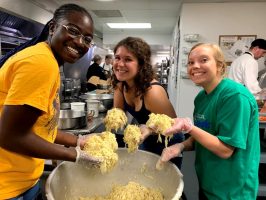 Global Station: Judge's Champ
With Lead Cook Ann Yates, the Global team consisted of Angel Ramirez, a junior from Chicago, IL, Alisha Bailey, a senior from Chicago, IL, and Alexander Valdex, a first-year from Houston, TX. 
While the other stations prepared a side dish to go alongside pulled pork, the Global Station's goal was to create a side for a salmon entree. The team whipped up an apple chutney side dish. As the first team to slice into an apple and the last to finish up the competition, the Global Station came out on top, taking home the Judge's Champ trophy.