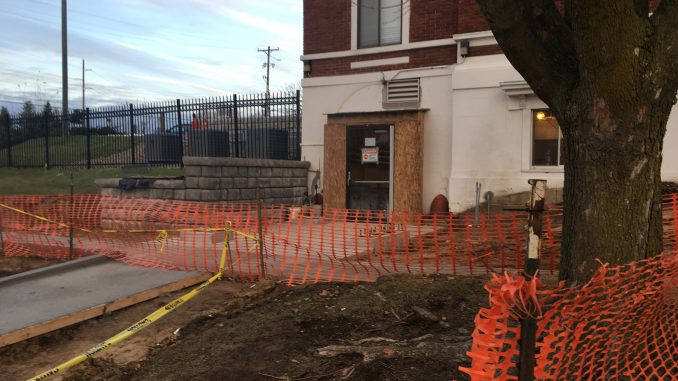 In October, Albion College announced that a $5.1 million gift by Lisa ('79) and James Wilson ('77) would be used to reshape the Institute for Healthcare Professions into the Wilson Institute for Medicine.
The gift would adapt Albion College's pre-med program to better fit a student's transition to graduate school and the medical field. An advisory council of healthcare-expert alumni and an external group of former deans at leading U.S. medical schools will help with the reinvention of Albion's program.
According to Bradley Rabquer, Wilson Institute director, the Wilsons' gift will break down barriers for pre-med opportunities, too.
Rabquer is creating programming for pre-med students in conjunction with Oaklawn Hospital, a Marshall-based medical system. He hopes to move the Wilson Institute to Munger Hall's first floor, just above Oaklawn's upcoming Albion facility, by Fall 2019.
The program will allow students to shadow Albion Oaklawn clinic healthcare practitioners or work for pay in the facility.
"I'm really excited to say, 'Yes. You can gain practical real-world experience right here on campus,"' Rabquer said.
The Institute currently helps students connect with area clinics and Michigan alumni in the healthcare field. Students without transportation or the financial means necessary to make the move, however, do not have access to those opportunities, Rabquer said.
Albion College has enrolled an increasing number of out-of-state students, many of whom who do not have access to transportation or local contacts necessary to make career connections. This year's graduating class came in with just over 20 percent out-of-state students. Nearly a third of the first-year class is out-of-state students.
The Institute will occupy the space of Munger's former dentist office. On top of Institute staff office space, Rabquer hopes to have a room with technology and furniture that could be rearranged for independent studying, group projects or classes.
Given Munger Hall's status as a living-learning-community apartment complex, students also have the opportunity to create a room or group of rooms united by one core mission which members would achieve together.
Rabquer foresees Wilson Institute living-learning communities forming around missions like getting into graduate school or addressing student healthcare issues.
Once Albion's Oaklawn clinic opens in February of 2019, it will be the healthcare provider for Albion students. Student Health Services, which currently provides free healthcare for students on campus, will close.
Rabquer sees the partnership as great for all students, not just those in the pre-med program. While students will pay for Oaklawn's services like a typical clinic, they will have access to better hours, basic procedures and more physicians.
"Now having a practitioner in Albion within walking distance on campus, it's going to knock down barriers to access for a lot of students, and that's incredibly important," he said.