At the Oct. 5 Homecoming game against Hope College, a three-person Homecoming Court will be crowned from nine individuals who were nominated by their friends and professors. Students likely know at least one of them, but in case they are still trying to decide who they would like to see win, meet the contestants.
Amanda Baumgart is a senior from Lake Orion, Michigan, studying English with a concentration in secondary education. She's co-president of LGBriTs, frequents many of the other Umbrella organizations' meetings and is in Student Senate.
Baumgart plans on living in Albion after she graduates because of the community. Something she's going to miss about the college is the beauty of the campus. "The architecture, everything. It's so beautiful being here."
She would like to win because she would like to see more representation in Homecoming Court.
"Whenever I think of Homecoming Court, I think of Greek Life," she said. "I don't think there's a problem with that, because Greek Life does make up 50 percent of our campus, but when I only think of Greek Life, I think there's a problem with that, because there's another 50 percent of the campus that isn't being represented on Homecoming Court. I am a queer individual, and if I don't see representation, my thought is to go and make it. I would like to go out there and be that representation for younger students."
Maggie Fowler is a senior from St. Johns, Michigan, studying accounting and French with a business minor. She's involved in Student Volunteer Bureau, Alpha Phi Omega, Delta Sigma Chi, Mortar Board, Omnicron Delta Kappa, and the accounting fraternity.
Fowler will miss the community that she's experienced at Albion both on and off campus. "I've started to really build relationships with fellow students but also staff and members of the community."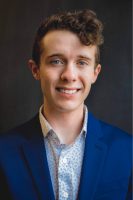 Robert Joerg is a senior from Fremont, Ohio. He chose Albion because he wanted a smaller school where he could play tennis for the team. He was impressed with his initial visit and liked that the town was just the right distance from his hometown. He's majoring in political science.
He's involved in Student Senate, College Democrats, Delta Tau Delta, Mortar Board, and Omnicron Delta Kappa.
Joerg feels that he's going to miss the aspirational period of college.
"We're nearing what we're going to be doing, what's going to come next. It's terrifying, but also exhilarating. Once you're out of college, you start living it." One thing he's not going to miss is the food.
He would like to win Homecoming Royalty because he feels it is important for the position to be held by people who have worked to improve the student experience at Albion, rather than being just a popularity contest.
Laurel McGerty is a senior from Troy, Michigan. As a psychology major with a minor in exercise science, she is also in the Honors Program, Psi Chi, the Healthcare Institute. She is also the president of Mortar Board and vice president of ODK. She says she'll miss the Whitehouse Nature Center after graduating because of the calm feeling she gets from being in nature.
She said her mother was the reason she ended up coming to Albion.
"I thought I wanted to go to a big school, and she made me go visit after getting an email about Albion. I kind of liked the smaller feel, and I was impressed by how at home I could feel here."
She was very flattered by the nomination, but says she isn't dead set on it.
"I'm very thankful for the connections I've made here, and if that's what I take away with me, I'm totally fine with that. I'm here to have a good time."
Andrea Sanchez is a senior from Waterford, Michigan, studying political science and math. She's also involved in the Ford Institute, the Honors Institute, Delta Gamma, Phi Alpha Delta, Mortar Board, and ODK. She is also a tour guide on campus, Student Senate President and an First-Year Experience mentor.
"I don't think we're ever going to have the same experience that we've had here, where you're with your peers, living with them in the same space, bonding with them over classes you may not like or may really like," she said. "I feel like it's such a big community here that you can't find elsewhere, maybe not even in grad school."
Sanchez was surprised when she learned that she was a nominee for Homecoming Court, but would like to win because she feels that she's done a small part on this campus to make it a little better, as have many of the nominees.
Stephanie Saksa is a senior from Rochester Hills, Michigan. She's studying English and elementary education, and is a member of Kappa Delta, the Panhellenic Council, Union Board, and Sigma Tau Delta.
Saska thinks that she will miss the Greek life at Albion the most because of the many friends she's made from them and the confidence she has gained since joining.
Saska would like to win Homecoming Royalty because she thinks it would be cool to see how far she's been able to come, from a shy first-year.
"Albion has gotten me out of my box and given me so much leadership and involvement, and winning would be an incredible way to complete my journey here at Albion," Saska said.
Maddy Slamka is a senior from Saint Johns, Michigan. She is majoring in exercise science, and has a minor in anthropology. Around campus, she's involved in American Association of University Women, Alpha Xi Delta, and works for the sports information department.
She's flattered that she was nominated, because she feels that it has given her a closer bond to the college and allowed her to meet new people.
She's going to miss the beauty of the campus. "It makes me happy being on campus, and relaxes me," she said. "I've built so many connections here. It's such a happy place to be [in]."
Matt Stander is a senior, adopted from South Korea and living in Grosse Pointe, Michigan. He is the president of both Umbrella Council and the Asian Awareness Group. Hee is also involved in the Nwagni Project, Student Volunteer Bureau, Mortar Board, Omicron Delta Kappa, and the Ski and Snowboard Club.
Matt remembers touring Albion and finding everyone welcoming. He says that he fell in love with the campus by the end of his visit, and has never been disappointed since.
He has enjoyed his time volunteering in the community of Albion, because it has given him the opportunity to give back, and has given him the chance to see how much the college and city have grown during his time here.
Matt feels honored to be on the Homecoming Court, and feels that all the individuals who have been nominated represent Albion well. He would like to be able to represent the hard work and achievements of Albion's community.
Nicole Woodhead is from Buffalo Grove, Illinois. She is majoring in biology and biochemistry, and would like to go to graduate school.
She's involved in Alpha Phi Omega, Student Volunteer Bureau, Asian Awareness Group, the Umbrella Council, the Biochemistry Club, Mortar Board, and ODK. She's also a teaching assistant for the chemistry department.
Woodhead is going to miss the environment of the campus and the town of Albion.
"At this point, it feels like home, and I'm really going to miss that." She feels that she's had the opportunity to push out of her comfort zone and try new things, since coming to Albion.
Photos courtesy of respective Homecoming Court nominees.