Throughout life, people try to discover their identities. Influences such as hometown, family, friends and hobbies all shape a person into who they will become. Sometimes, it is hard for people to find their identities as they go through different experiences, visit new places and meet new people.
Batoul Ballout, a senior living in Dearborn, Michigan, portrays her identity through her artwork. She identifies herself as an immigrant, which can be seen through several of her self portraits, with color schemes, clothing, and abstracts to match. Ballout also identifies with her Muslim faith, shown through the presence of her scarves in self portraits and the inclusion of the Islamic colors, yellow and green.
Changing locations and majors
While growing up in Lebanon, Ballout always had the pull to draw, but with limited resources, it was hard to keep up with her passion. Her art hobby was set aside as she went on to attend higher schooling.
Ballout attended Lebanese University for two years and went into its interior architecture program. She didn't expect all the math the curriculum required. So, she decided to head into an early childhood education program instead.
After moving to the United States in 2014, Ballout attended Henry Ford College in Dearborn, where she thought she would continue with her educational path to one day teach in an elementary classroom.
She also decided to give her art a chance. She entered artwork into a few of Henry Ford's publications, including The Mirror News and Looking Glass. Unsure about going into education, Ballout started to consider her childhood passion as a major and eventually decided to pursue studies in the fine arts field.
Having earned an associate's degree in liberal arts from Henry Ford, Ballout started to look for a place to continue her education. After hearing her sister talk about a visit she had at Albion College, Ballout considered seeing what a small school would be like — her focus had been on larger universities in bigger cities.
"Albion is so small, and there is a lot of nature, and it is your scene," Ballout said, repeating her sister's remarks on the college.
Ballout decided to see for herself what Albion College offered.
"I came here on a tour, and I found everything to be cozy and everyone to be nice," she said. "And I thought, 'This is the best option for me.' I just felt comfortable."
At Albion, Ballout had the chance to complete a Foundation for Undergraduate Research, Scholarship, and Creative Activity (FURSCA) project this summer. The theme of her 2018 summer creative project depicted in several painted pieces related to the topic of identity and belonging.
This slideshow requires JavaScript.
Ballout identifies as an immigrant, a Muslim, a women, a sister, a daughter and a friend. Throughout her FURSCA artwork, she portrayed the cultural aspects of her life, including the scarves in which Muslim women wear as well as the prayer rugs that they use. Ballout also makes a point to add abstract images or props into her paintings to show the presence of the inevitable Americanization that tries to conform immigrants.
Having grown up in an unstable country, Ballout has often found her work to revolve around human conditions. Now an immigrant, Ballout finds it important to talk about being in a different place while keeping your identity.
Ballout enjoyed her time working on campus over the summer. She ended up completing about a painting per week while also reading books relating to identity and belonging.
After completing her FURSCA project, Ballout had two paintings accepted into exhibitions at Midland Center for the Arts and the Muskegon Museum of Art.
She's made money off her artwork, too.
"I sold my first painting," Ballout said, "and it was of my face so I don't know who would want to buy that."
Ballout said that when it comes to finding inspiration, she starts with the basics.
"I literally just scribble," she said.
Her go-to pattern is a pattern of lines. These patterns can be scene in some of her paintings and prints.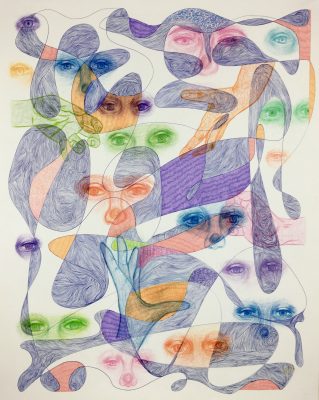 Another aspect she likes to focus on in detail are eyes.
"I can tell a lot by a person's eyes," Ballout said. "Eyes are like looking into someone's personality."
While her favorite color scheme is red, white and blue, Ballout also incorporates the yellow and green of Islamic tradition into a few of her paintings. Her color schemes can be seen in her collection of "Say a Prayer For Me" paintings.
This slideshow requires JavaScript.
She often uses pastel colors because she likes the soft hues. With many colors, such as red, she will lighten the tone to a pink, still keeping one of her favorite colors but with a slight contrast adjustment.
Ballout is looking at applying for an art residence before graduate school, where she will earn her MFA and hopefully continue into a teaching career.
"Art professors have influenced me so much that I want to do the same," said Ballout.
To see Ballout's artwork, stop by Bobbit Visual Art Center. You may even find her working on a painting or a print.