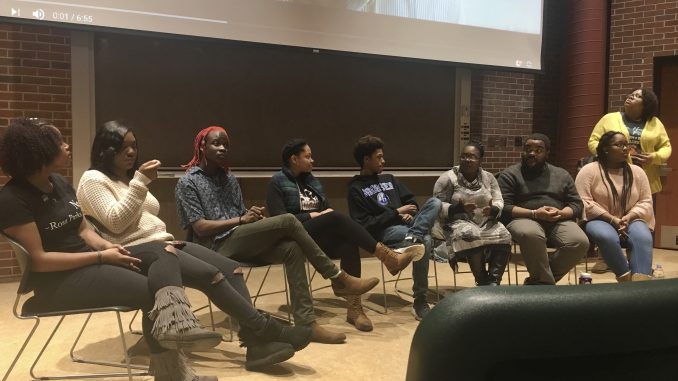 February is an important month both nationwide and here at Albion College. February is Black History Month, and the Black Student Alliance (BSA) will be hosting many events for students and the community. These events are designed to inspire and inform Albion College and are free and open to the public. Some events have already passed, such as Soul Fool Day, the first of a series of presentations called "Do It For The Culture," and the "I Am Not" panel that was held on Feb. 15.
Co-President of BSA, Cash Jones, created the "I Am Not" panel for students to talk to fellow students and members of the community about discrimination.
Jones brought up incidents last semester such as the inflammatory document that was circulated within the campus' College Conservatives by a member. The document led many students to believe they weren't wanted on campus, including Jones herself.
"Last semester was like a huge semester for us," said Jones. "It was emotionally tiring — a lot of us just didn't see a point in still being here because it showed that this campus, nor the students who created things such as the document, cared about us."
The panel was influenced by one in the spring 2017 semester where a few professors on the panel spoke with mostly first-year students along with their FYE mentors. But Jones said it didn't really feel as though it was reaching the students, that most of the students had to be there.
The "I Am Not" panel touched on strong subjects like discrimination, racism and stereotypes. It was a discussion-based panel and displayed Joyner Lucas' "I'm Not Racist" music video before anyone spoke in order to initiate dialogue amongst students. Many people in the audience asked questions to the panelists regarding the video that was shown.
"I'm surprised we did the questions. Majority of the time we talk about topics like this, the room falls silent," said Shelton Meyers, a first-year on the panel.
It is important to note that the panel was student-to-student, meaning the panelists were current students of Albion College, a first for Black History Month events. One professor was on the panel was Dominick Quinney, visiting assistant professor of ethnic studies. The panel also had Keena Williams, Director of Intercultural Affairs and President Ditzler's special advisor for global diversity. Most panels here on campus consist of only faculty, guest speakers and past students.
The panel ended with a poem written and read by Sean Kubit-Miller, a Redford, Michigan, junior on the Albion College football team.
"I feel like it's going to be a success whether we have the biggest turnout that they did last semester or not," Jones predicted a few days before.
Jones added that this panel was going to be the best event for this month.
"It's something so new to the college, it's something that we need and it's something that is going to always have that effect on someone," she said. "When they [students] think back on events that we had on campus, I think that the panel will be one of them."
Jones said the panel is something that is extremely important for students of color here at Albion because it will likely implement change on campus. Although the purpose of this panel is to direct the college towards change, it might not happen right away.
"I didn't think this panel will happen. The fact that it's even going to happen and people that are not of color want to attend shows that Albion is willing to change," Jones added.
"Do It For The Culture" Presentations
A series of presentations that BSA and ICA are partnering up together for are the "Do It For The Culture" events. The first of three presentations occurred on Feb. 9 and was about media representation of students of color, whether it be in movies, television, music or advertisements.
The next presentation was on Friday, Feb. 16, and focused on home living, specifically the stereotypes of the home life of students of color. The presentation dove into those stereotypes of being brought up in an unhealthy household. It talked about what home life actually is like for students of color and how they overcome the challenges of their environment.
The last presentation will be for natural hair and clothing. That presentation will be on Friday, Feb. 23, and it will focus on embracing natural beauty. This presentation will talk about embracing one's roots and culture.
In general, these presentations will be about loving oneself and loving the culture and community you're a part of.
"Taste of Blackness"
The next big event this month will be Taste of Blackness. This will be the last event for Black History Month, and it will be on Sunday, Feb. 25, at the KC Stack.
Taste of Blackness is a celebration event for the community and for the African-American students at Albion College. There will be performances that all have a central theme, "African-Americans in time of war," and they will be directed to veterans who are anticipated to be in attendance.
The event will also feature soul food. The BSA executive board hosts a mini potluck as part of the event where they bring in food. Members of the community usually attend this event as well.
"[Taste of Blackness] has been my favorite since I was a freshman here. I love soul food. Like I love my culture. I love being African American… I think our culture rocks," said Jones.
In comparison to previous Black History Month events here on campus, this year's events are more interactive. These events will educate others about students of color, and celebrate their culture as well.
"I think it's something that's more engaging to the students of color here and I think it's more engaging to students that aren't of color that want to learn more," said Jones.
Jones believes the college needs organizations and communities like BSA in order to accommodate to the minorities of Albion and allow for positive changes on campus.
"I know if we continue to try and implement change, eventually change will happen," said Jones.
Photo by Lyssa Gonzalez