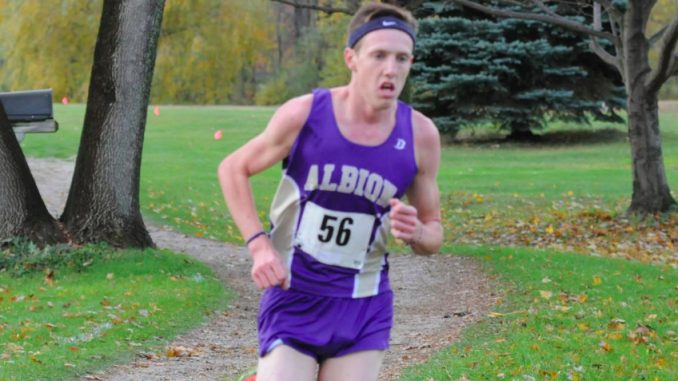 It was an unseasonably hot fall morning in the city of Chicago. However, that did not stop nearly 45,000 runners from lacing up their shoes and toeing the starting line in Grant Park for the annual running of the Chicago Marathon. While there were many movers and shakers within the top waves of the race, most of which competed at large, Division I colleges, one Albion College alum was able to swallow up these runners in what was only his second career marathon.
Mitchell Klingler ('14) is no stranger to the Albion College running community. A native of Coldwater, Michigan, Klingler had a standout career while running cross-country and track and field for the Britons, which included a blistering school-record performance of 14:23 in the 5,000 meter run.
In the fall after his graduation, Klingler returned to Albion as an assistant cross-country coach, a position he would hold for three years before leaving to pursue other careers. During this time, he was also able to continue his running career, competing for the Playmakers Elite running club.
While Klingler has raced a plethora of distances throughout his career, the marathon was always in the back of his mind, as it would be his best shot to qualify for the Olympic trials. To do this, we would have to lower his marathon time to anywhere between 2:15:00 and 2:19:00.
He raced his debut at the Bayshore Marathon in the spring of 2016, finishing with an impressive time of 2:27:49 (5:38-mile pace). From here, he had his sights set on Chicago, which resulted in a 75th place finish in the overall race with a time of 2:31:55.
Klingler gladly participated in a Q&A with the Pleiad about his Chicago experience.
Andrew Wittland: Give us your overall thoughts on the race.
Mitchell Klingler: Let's just say it was not what I was hoping for. I was extremely disappointed with myself right after the race. I wanted to do so much better but people don't realize how cruel 26.2 miles can be. After sitting in the tent changing back into my warmer clothes, I realized that it's okay to be upset but I have to look at the bigger picture. I walked away injury-free, still ran 2:31 (a time a lot of people would love to run) and had my family there being able to watch me. All in all, the race could have went better but it could have also been way worse. I'll be back stronger and faster than ever and ultimately I'm still doing what I love so you can't ask for more.   
AW: What were your specific goals?
MK: Going into the race I knew was probably in low 2:24 shape (5:30-mile pace). I should have went out at that pace from mile one but I decided to try running with the elite women. They are incredible athletes and I broke myself later in the race trying to keep up with them. I let the ego in me get the best of me that day and that is something you don't do in a marathon. My time doesn't show it, but I still believe I was in 2:23-2:24 shape that day. You live and learn and I did a lot of learning.
AW: What was your training like leading up to Chicago?
MK: I really started training back in the beginning of June and had a great first two months. Still not where I wanted to be, but I was training better and more consistent than I ever have. August and September were patchy. I'd have good spells and bad ones. I really missed out on my long runs which I think hurt me overall.  
AW: How did it feel to race in such a high-caliber field?
MK: It was an incredible experience. The field was loaded with talent. Running stride for stride with people that have won Olympic medals was awesome. The crowd went crazy when the elite athletes ran by. I literally had goosebumps from how loud the crowd was during the race. It was an experience that I may never get to have again. Being able to be in the same race with and run alongside people I watch on TV during the Olympics is like I said, a once in a lifetime experience.
AW: How did the Chicago course compare the course of your last marathon at Bayshore?
MK: Bayshore was much more low-key, being around 2,000 runners compared to 40,000. Chicago had spectators the entire course and I had people cheering me on the entire 26 miles. Considering both courses are different, I loved them both. I'd definitely would do either race again.
AW: You've raced many different distances throughout your running career, what did this specific distance (26.2 miles) teach you about your running abilities?
MK: I already knew but it reminded me that you can't fake your way through racing 26 miles. In shorter races, you can gut your way through, but not so much in a marathon. Your body runs out of fuel and just wants to stop on you. You really have to put in the miles and train smart if you want to compete at a high level in the marathon. It is an extremely difficult distance to conquer but it is a fun race. You really see what you are made of in a race that lasts over two hours. It really has showed me how far along I have come as runner all the way from when I started. My PR (personal record) in the 5k in high school was 16:25. Now I'm out there trying to average that in hopes of one day qualifying for the trials. Some people may think that I had a bad race but a lot of those same people probably have not tried to race 26 miles. After running two marathons, I know I can run much faster. I just need to be more consistent on my training and tweak a few things. I don't think anyone can be completely prepared for a race because there is always something else you can be doing to be getting better, but I think I know what to do in order to be better prepared for my next marathon.
AW: What are your running plans going forward?
MK: This is the most time off I've ever taken off after a race but I'm slowly getting back into it. Right now I have USATF Club Nationals with Playmakers in Lexington, Kentucky on December 9. After that, I'm going to start really putting on a good base during the winter months. I don't have any race planned after club nats. Ultimately working towards running a fast marathon in 2019 is the goal.
Photo courtesy of Albion Athletics.