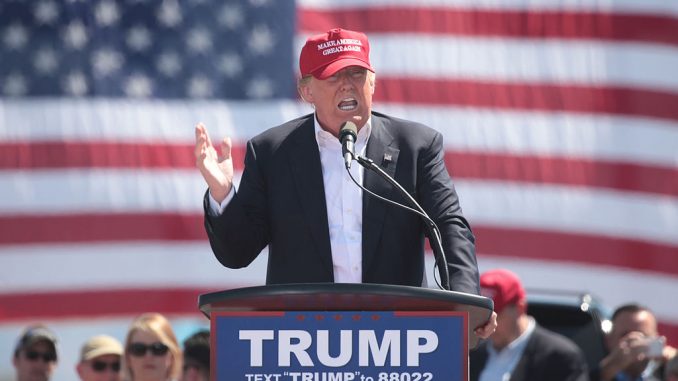 In the aftermath of the election, classes have been canceled. Professors have moved due dates on projects. We have had quizzes that ask us to reflect upon why this election makes us feel unsafe and community places that provide us the opportunity to talk about our feelings.
My news-feed is filled with students who feel unsafe because our rock is painted "Trump." I have friends, sisters and colleagues who are posting paragraphs saying they will not look at me the same way because I support racism, sexism and hate.
I can sit here and say I have been personally victimized on my campus. I have felt "unsafe" in my classroom. In my public policy class I asked a question regarding minimum wage and the girl next to me whispered under her breath, "If you didn't wear Lululemon and drink coconut water instead of normal water, we would be able to afford a $25 minimum wage."
What happened when I turned around to respond to the girl behind me? My professor started sweating and told me to drop the issue.
I can look back and say that students, professors, faculty and staff have suppressed my freedom of speech. I have not had the opportunity to express my political views, or ask questions about others' because minorities on this campus might feel offended, and I would most definitely be identified as a racist.
Conservatives on many college campuses find their place very quickly. In a culture of safe spaces and sensitivity, asking a question regarding race in class can lead to false accusations being made to campus safety and unity rallies on a quad.
I expected more from college. I expected more from my professors and more from my colleagues. The leaders on college campuses have cultivated an environment of divide and excessive sensitivity in the attempt to make people feel "safe."
For those of you expressing your beliefs on social media, I ask you one thing; at what point during this presidential campaign did you make an attempt to have an open conversation with someone who held a different perspective, a conversation in which you listened to understand, not to respond?
I am not a racist, sexist, I do not hate the gay community or want all immigrants thrown out of our country because I voted for President-elect Donald Trump. I voted for him because I am sick of the corrupt politics the Clinton family embodies.
I am sick of sitting in a classroom that requires me to read a book about all the great work the Clinton Foundation does, and everyone in the room ignores the fact she has been accepting donations from countries that treat women as property.
I am tired of everyone justifying Secretary Clinton's actions with no consequences. You can say the Wikileaks were simply fake information provided by the Russians. Or you could read the leaks, do some research and realize that in 10 years Wikileaks has not released a single falsified document, but you choose to ignore reality.
Secretary Clinton should have never been nominated in the first place. She was under FBI investigation and stole the people's choice, Bernie Sanders.
If more liberals took the time to do research, and not only listen to the lies the media was feeding our country, they would have realized that Donald Trump won a Republican ticket with historically Democratic views.
President-elect Trump does not symbolize the racial and cultural divide Democrats want him to represent. Trump beat the best, well-funded political machine in history. The odds were not in his favor. The people did not vote for him out of hate for minority groups. They voted for him because they are sick of the political lies the Clintons represent.
Many people sit in class with me and categorize me as the "privileged white girl," but they do not consider the fact that I am also a first generation Middle Eastern woman.
I will never know what it is like to be a black man in this country or a member of the LBGT+ community. I believe acknowledging that difference is the first step in understanding another human's perspective.
But what I do know is that colleges are not only failing me, but the minorities around me. Instead of creating a space for different perspectives to communicate, they are creating a wedge.
They are not empowering minorities to spread their beliefs. They are enabling them to create a cultural divide on campuses, which is rooted in fear, hate and misunderstanding.
I challenge the leaders on college campuses to evaluate their role in their communities. Are you perpetuating divide or creating a space for different opinions to come together to understand, not simply respond?
Do not let fear tear us apart. Let love question our reactions and bring us together as one free nation.
Editor's Note: This is the first of several upcoming staff Opinion pieces about this year's elections. We also welcome guest Opinion pieces which can be submitted to pleiad@albion.edu.
Photo via Gage Skidmore/Wikicommons