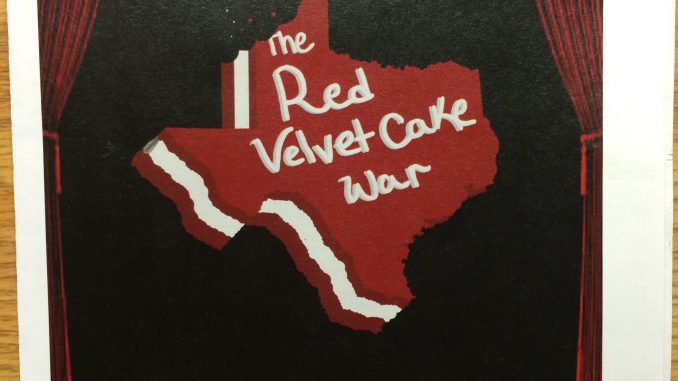 On the weekend of Halloween, the Department of Theatre introduced The Red Velvet Cake War. Consisting of comedy and drama, this play kept the audience's' attention riveted as each comedic act was met by laughter.
The play opened up unexpectedly, catching the audience off guard by the character CeCe Windham loudly singing and proclaiming her Hospitality House show. After the first comedic scene, the show progressed with the unwinding of the story.
The play focused on the Verdeen family and did so more closely on the cousins: Gaynelle, Jimmie and Peaches. Gaynelle just discovered that her husband has been cheating on her with a younger woman, and the authorities believed that Gaynelle was likely to harm this woman. To investigate this belief, a psychologist was to evaluate her to decide whether or not she would be thrown into a mental institution.
Because of this incident, the yearly family reunion is in danger of being cancelled, until Gaynelle's cousin Peaches develops a plan to pass the psychologist's evaluation by allowing Gaynelle to host the reunion.
The conflict and drama officially arrived when Gaynelle and aunt LaMerle made a bet from a disagreement on whose red velvet cake is the best. If aunt LaMerle wins, she takes Gaynelle's house.
While Gaynelle has to bake an amazing cake, hold off a judgmental psychologist and deal with the trouble her and her cousins get into, the story presented the difficulty of unresolved hardships, newly found love and the chaotic yet inseparable love of family.
I enjoyed watching the play; the interaction between the cousins was very entertaining. The chaos that the family created throughout the entire show kept me laughing and invested until the very end. The actors did a spectacular job (the country accents were excellent), my favorite being Jimmie Wyvette Verdeen played by Maci Moss. I'm sure they will not disappoint at the next show.
Photo by Taylor Anhalt