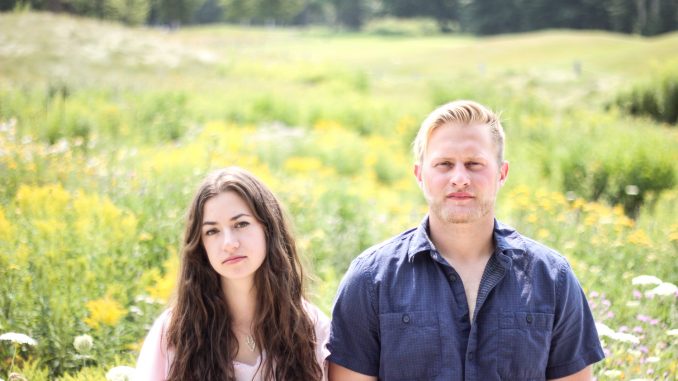 Fifteen minutes—the time it takes to make a batch of cookies, watch a quarter of a lacrosse game, update to the latest Apple software or save 15 percent on car insurance at Geico. But if you're the homegrown band Less is More, 15 minutes is just enough time to launch a hit song on Spotify. Apparently less really is more.
Jane Finkel and Brian Spencer are the musical duo who built the band Less is More. On the road in Nashville last year, the indie folk band collaborated with pop band The Queen and King to create an acoustic blend of the songs, "Cool Kids" by Echosmith and "Riptide" by Vance Joy. A quick search of  "Cool Kids/Riptide" on Spotify will yield a song with over 19 million plays.  
Finkel and Spencer met at Albion College through their mutual love of music and involvement in the acapella group, Euphonics. They had small gigs with their band, Me and My Friends, throughout their time at Albion. Receiving payment in the form of pizza and beer, they performed every Monday at Cascarelli's Senior Bar Night with a few of their classmates.
"We had people come up and sing. It was a cool thing for seniors to come and hang out," Spencer said.
Seeing a future in a musical career, Finkel and Spencer started performing as a duo in the summer of 2013 on Mackinac Island, where Finkel calls home.
"One morning Jane's dad walked down the stairs with a t-shirt on that said 'less is more'. We thought, that's it, that's good," Spencer said.
On Aug. 22, 2014, the band debuted their first album, Amid the Flowers. Following its release, the duo toured the country to perform at different venues including breweries, festivals, living rooms and backyards. The band is still surprised by their popularity every day, much of which they owe to their success on Spotify.
"We just watched it go up and up and up and we know that it's going to reach a limit at some point, but I am just shocked that it has not happened yet," Finkel said.
"It was bizarre because we'll work on a song for months and months and months," Spencer added. "It probably took 15 minutes for us to track our stuff. It just goes to show you that if the right people listen to your stuff, it doesn't matter how long it takes, as long as the right person likes it."
Spotify serves as proof. People love them. Their increasing popularity helped land them a gig at the recently refurbished Bohm Theater in Albion on Sept. 17. Sitting outside at a wooden picnic table on the night of their show, the alumni reflected on how it feels to be back.
"The Bohm wasn't open the four years that I was here, so being able to come into a place that I was looking at my entire four years as a gold mine…it's just a really cool thing to be back," Spencer said.
Across the street from the bar where they first started performing, the couple wowed an intimate crowd of about 60 people. Sponsored by Albion College's Union Board, Euphonics opened the show with three songs before Less is More took the stage. Jane and Brian opened the night with an upbeat song from their album and kept the atmosphere light, inclusive and relaxed, akin to their Monday nights spent at Cascarelli's.
The band showed no hint of nervousness and was completely at ease in front of an audience full of Albion College students, many of them friends of the band. College faculty and members of the community were also in attendance. They played six songs and encored with one of their very newest, Who Knows, and ended with their cover of Riptide, a crowd favorite.
"This is a big one because it started here at Albion, and we're going to kind of close the book with Albion," Spencer said.  
The Bohm show was the final performance for Less is More as a duo before they brought a new drummer, Sord, into the mix. The trio kicked off their fall tour on Oct. 1 and is continuing to travel the country until Oct. 14.
The band's main goal for the future is to establish financial stability so they can continue to do what they love. "We're still getting by; it's not like we're getting paid millions of dollars because of this Spotify thing," Spencer said.
With that said, it seems as though they are far from reaching a limit to the popularity their songs are receiving. From the time of their performance in Albion, the number of hits has grown by over two million and currently sits approximately 20,000,000.
The band is fully aware that success doesn't happen overnight. Even though they launched one of their most popular songs in a short amount of time, they pride themselves on the hard work it took to reach this point in their careers.
On the road, there were times when they questioned whether or not they wanted to continue making music or choose a career that was more financially stable.
"Both of our ways of coping with stress and the uncertainty of this whole business is just working really hard, to the point of just beating ourselves into the ground sometimes," Finkel said.
The work is well worth it, given that their ultimate motivator is creating music and sharing it with others.
"We like being a folk rooted band because of the ability to tell stories, and we want our lyricism to convey a message that has had significance in our lives," Spencer said.
If you've attended any of their shows, it is clear to see Less is More is doing just that. And one thing's for sure—we want more.
Photo by Less Is More