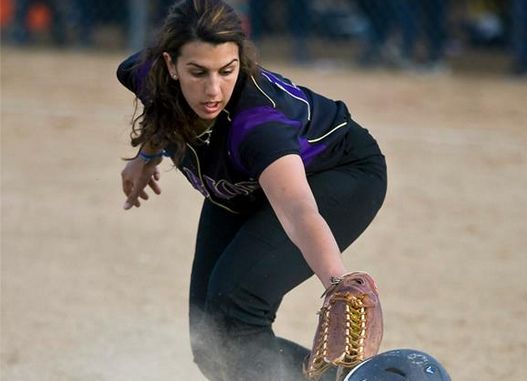 April 9 was just a normal Wednesday afternoon for most students on Albion's campus, but for the Albion softball team, it turned out to be a special day.
After completing the 2013 campaign with a 0-30 overall record and going winless in the MIAA, the softball team saw all of their returners' hard work pay off and first-year players' talent come together for the first time in league play, as they defeated Kalamazoo College in a 4-0 shutout.
"We finally proved that we did have the skill," said Monica Brugnoni, Saint Clair Shores first-year. "Our coaches were super happy because the whole game we showed the team we know we have."
The team only lists five upperclassmen on their 2014 roster and getting the first win since 2012 helped alleviate some of the pressure the returning players were feeling.
"We've been really close a lot of games," said Kaitlyn Downey, Macomb senior. "It's just been one bad inning, and so to put it all together finally felt really good."
Though it may not look like success from an outsider's perspective with the team sitting at 2-21 overall in 2014 and 1-11 in the MIAA, every bit of progress is a sign of success for this team. Brugnoni said the program is going through a rebuilding phase and tries to take every game one game at a time.
"Going into the year, [the goals] were just to do better than last year," Brugnoni said. "It wasn't so much like 'oh let's try and go win every game.' I think it was taking every individual game, game-by-game, and taking every pitch, pitch-by-pitch and focusing on each individual pitch to see what the outcome is then."
The team's mindset throughout the course of the season remains consistent as they prepare for their final six games of the season. For Downey, she hopes the team stays the course, plays well and plays together.  She wants to send a message to the first-years about how important it is to work hard and have fun every day.
"Cherish every day, because it really does go really fast," Downey said.
For the seniors, reality of a four-year career coming to an end sets in hard as the final season comes to a close, but according to Brugnoni, the team will do everything in their power to send their seniors off right due to their commitment to the program.
"One more win, just to say we didn't have a season like last year," Brugnoni said. "[We want] to go these last couple games all out, because it's [the seniors'] last time playing and they're never going to play after this."
The Britons final home doubleheader of the season will take place on April 26, with the first pitch set for 1 p.m. as they take on the Adrian College Bulldogs.
Photo courtesy of Lowell McGinnis