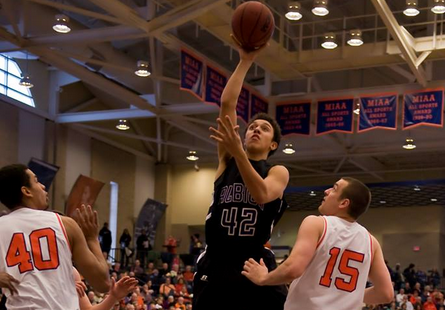 The MIAA men's basketball rebounding leader isn't exactly who you'd expect. He's not a 6-foot-10, 260-pound big man who towers over everyone in the lane. And he's not someone who clearly stands out on a college campus. But for Albion's Jordan Herron, a 6-foot-4 200-pound sophomore from Holt, that's irrelevant.
"Rebounding is one thing that I know I've pretty much always been good at, so me having that is something that no one can really take away, unless I fall off the face of the earth," said Herron. "It's just one thing I do take a lot of pride in and I work hard towards."
That hard work has paid off as he leads the MIAA in rebounding, averaging 8.1 per game.
In just under two seasons, Herron has collected 341 rebounds, which are 129 shy of breaking into the top 10 rebounders in Albion College history. If he keeps up his current pace, he'll crack into the top 10 in the middle of his junior year.
He's made it a point that he often doesn't set goals for himself, but being added to the top 10 list of all-time is a feat he is passionate about achieving. Meanwhile, his teammates have taken notice.
"Jordan's probably, right now, player of the year in the MIAA, so it's just important for him to stay focused and we look to him to contribute like that every single game," said Zach Hurth, Lansing junior and team captain. "He should get a double-double every game and he does, so that's good [for us.]"
According to Lawrence Ridgell, River Rouge senior, forwards such as Carter Elliot, Franklin junior, and Travell Oakes, Muskegon sophomore, have helped pushed Herron to the next level this year.
As a forward, Herron's ability to absorb contact on the defensive has enabled him to become a great rebounder, and on the offensive end, his strength allows him to draw contact and finish around the rim. But Herron wasn't always a forward.
"I didn't grow until my freshman year [of high school], so I was kind of a really slow chunky guard," Herron said. "Once I grew I already had my ball handling skills from my guard days. In high school I played the two, three, four and five."
Growing up, basketball wasn't the only sport Herron focused on, though. He also played football, baseball and soccer. In high school he stopped playing football to play soccer, but it wasn't until he got to college that he primarily began to focus on basketball.
"I wanted to always go to college to play basketball, but then I got the opportunity to go play soccer too if I wanted to," Herron said. "But I just wanted to focus on one [sport] and it seemed that I always loved basketball, so I just stuck with basketball."
Herron got his first look from Albion while playing AAU basketball and was between Albion, Aquinas College, Lake Superior State University and a couple of junior colleges, but ultimately, he said he felt most comfortable here at Albion.
"I chose Albion, one, because I'm only 35 minutes from home and it seems like a close knit community," Herron said. "[As for] Coach May, I really liked him, and I bonded with the team really well at first."
Herron hopes to help lead the Britons in the final three games of the MIAA regular season and into the MIAA tournament. The Britons are currently in fourth place and would travel to Hope College in the first round of the tournament. Right now, he said the team is on track to accomplish their ultimate goal.
"Our goal was to win the MIAA tournament, but I would say our main goal was to just prove to the league that we are as good as everybody else in the league."
Photo courtesy of Lowell McGinnis