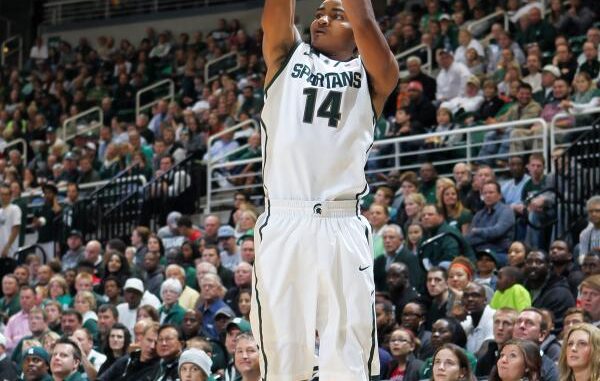 When Michigan State's Gary Harris announced he would put the NBA on hold to return to East Lansing for his sophomore year, Spartan fans everywhere began dreaming of the Final Four.
That's because Harris is arguably the most talented player to wear the green and white since Mateen Cleaves led Michigan State to a National Title in 2000. Tom Izzo, Michigan State's head coach, certainly didn't withhold praise when asked about Harris at the Big Ten Conference's media day in Chicago on Oct. 31.
"This kid has gotten better and better," Izzo said. "I think [Harris] will get better and be one of the all-time great guards at Michigan State."
Harris, a 6-foot-4 shooting guard, was voted by the media as the preseason Big Ten Player of the Year. He was also named a preseason Second-Team All-American by USA Today. Last season Harris averaged 12.9 points per game and was a defensive stalwart for the Spartans. He was eventually named the conference's Freshman of the Year.
In an exhibition game on Monday night versus Indiana (Pa.), Harris scored 21 points including 5-for-7 from three-point range. That's more of the same for a player who averaged 41.1 percent from beyond the arc last season. But Harris is much more than jump shooter.
Injuries to both shoulders hampered Harris for much of his freshman season. In high school, Harris was known for his strong finishes around the rim. Last April, after the Spartans were knocked out of the NCAA Tournament in the Sweet 16, Izzo reminded reporters of as much.
"You have not seen the Gary Harris I recruited yet," Izzo said. "Now he performed better in some ways than I thought he would as a freshman, but as far as the aggressive, take-it-to-the-hole, go-get-a-rebound, we haven't seen him yet."
Now healthy, many expect him to return to form this year. Jeff Seidel of the Detroit Free Press reports that Harris has noticeably added muscle to his frame in preparation for the upcoming season.
Harris is surrounded with talented teammates at Michigan State, including senior forward Adriean Payne and senior point guard Keith Appling. The trio face lofty expectations as the Spartans are ranked No. 2 in the nation, behind only No. 1 Kentucky.
Michigan State begins its regular season against the Wildcats on Nov. 12 at the ESPN Champions Classic in Chicago. This No. 1 vs. No. 2 matchup will mark the beginning of what the Spartan Nation hopes is a special season for Gary Harris and MSU.
Photo via MSU Athletic Department