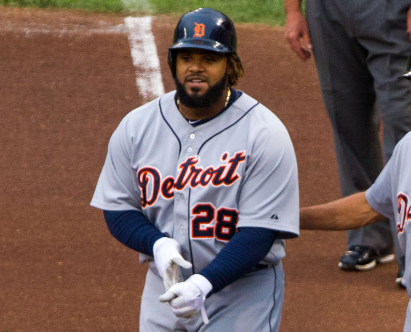 It's safe to say it's nearly impossible to predict what transactions Tigers' general manager, Dave Dombrowski, will pull out of his hat. From acquiring Miguel Cabrera and Dontrelle Willis after the 2007 season to making a splash in the winter of 2012 by signing slugger Prince Fielder, Dombrowski's tenure as GM of the Tigers has been an eventful one.
This year's offseason proved to be no different Wednesday afternoon, as Dombrowski and the Tigers announced Fielder's stay in Detroit would be cut short as the organization traded him and $30 million to the Texas Rangers in exchange for second baseman Ian Kinsler.
Fielder's production dropped off significantly this season compared to his first year in the Motor City. He totaled career lows in home runs (25), slugging percentage (.457) and on-base plus slugging percentage (.819).
His postseason struggles were even more eye-opening. In 24 games with the Tigers, Fielder batted .196 with only 3 RBIs and 1 home run.
The addition of Ian Kinsler helps the Tigers in multiple ways, but the biggest area Dombrowski continued to focus on in his press conference Wednesday night was the flexibility the organization now has.
Kinsler solidifies the team's need for a second baseman and seemingly will be slotted in at one of the top two spots of the Tigers' batting order in 2014. Austin Jackson will be able to move down in the lineup.
Cabrera will more than likely be moved back to first-base, which opens up third-base. Nick Castellanos, the number one prospect in the Tigers' organization, is the first name that comes to mind to fill the hot corner. Dombrowski has not ruled out the idea of resigning Jhonny Peralta, though, and sliding him over to third.
Flexibility comes not only within the lineup, but also within the team's finances.
Max Scherzer's contract expires at the end of the 2014 season, and it goes without question the Tigers would like to keep the reigning Cy Young winner in the Old English D. Kinsler is under contract for the next four years and is owed $62 million while Fielder, on the other hand, is owed $168,000,000 over the next seven years ($30,000,000 of which come from the Tigers).
The Tigers' offseason is far from over. Their bullpen struggled in the entirety of 2013, and the team never found a player to take command over leftfield.
Reports have indicated the Tigers are very interested in former Rangers closer, Joe Nathan, to help secure the back-end of their bullpen.
Names like Shin Soo Choo, Carlos Beltran and Jacoby Ellsbury are the popular names surfacing to fill the corner outfield need.
And based on recent history, anything is possible with Dombrowski at the helm.
Photo courtesy of UCinternational, Wikimedia Commons