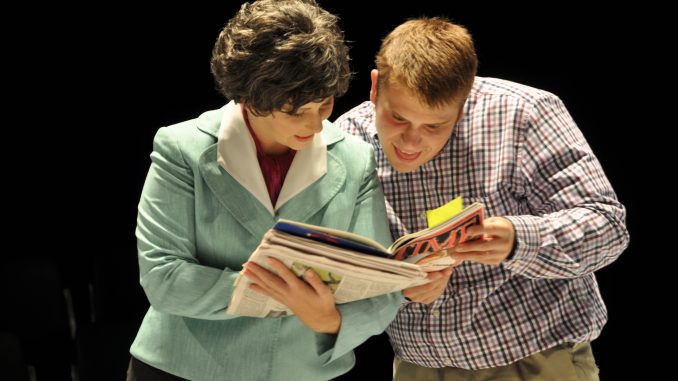 "The Phoenix Lottery" is a play written by Canadian Allan Stratton. Composed in 2000, this modern style play covers a multitude of morals and themes. It touches upon issues regarding old art vs. new art, immortality, business, religion, crimes against humanity, father-son relationships, the meaning of family and many more. This comedy has its serious moments as well as deeper, more sensitive interactions.
Summary
Junior Beamish has inherited his father's brewery and has turned its bad name around by opening a charity. Junior doesn't realize he's donated too much money and discovers, thanks to the ghost of his father, he's half a billion in debt. Junior and his hokey secretary, Emily Pristable, come up with a scheme to hold a lottery to burn a Van Gogh portrait, no doubt in spite of his father's love for art. Through this decision, colorful characters are introduced like a manipulative Roman Catholic cardinal and a wild young performance artist desperate for fame. Another haunting occurs in the play as well, when a phantom connected to the portrait appears. The story takes many twists and turns as suspense and mystery rise in an almost melodramatic way.
What's Good
The acting is very dynamic, the characters are well-rounded and the actors are clearly talented.  Junior Beamish (Brandon Marino, junior) demonstrates what owning a failing business can do to one's psyche. Edgar Beamish (Max Brosnahan, senior) shows his complicated love for his son and disappointment in wanting him to understand something he cannot explain. Their interactions are stressed and fast-moving, and they have a strong energy.  Emily Pristable (Shannon Seward, senior) starts as a soft, comical character, and slowly breaks into a complicated key-role with a mysterious past. Her North-Canadian accent is done splendidly, and she brings out many aspects of her character wonderfully. The Cardinal (Zach Nethercut, senior) demonstrates his God-given entitlement with a snobby air and condescending attitude. First-year Abby Radwick (who plays Lydia Spark) is a newcomer to Albion Theater, and she worked her role well. At certain points, she was difficult to understand, but her enthusiasm was prevalent. Vincent Van Gogh (Paden McCown, senior) has a very serious role. He conveys the emotional torment that was Van Gogh's life through his facial expressions and body language. With such a small cast, the audience gets to know all the characters well. The stage design by Director Mark Hoffland was innovative with its circular design and multiple entry points. The scenes themselves had physical depth, giving the actors a chance for more movement and direction.  Entrances and exits can be made from multiple sides in emotive ways. The audience will get a different experience based on where they sit.
What could use work
While actors are taught to project, at many points entire scenes were entirely yelled. The moments were exciting, yes, but in a small stage setting it was rather loud. Video news segments featuring the Kinesiology department professors advanced the plot, but the sound quality of the video was not desirable. There was a buzzing static which competed with the lines being spoken. The audience will have to be very quiet in order to hear the lines.
Overall, "The Phoenix Lottery" was exciting and heartfelt. The characters are easy to get to know, and the plot is not difficult to follow. The rising action and multiple plot twists keep the audience on the edge of their seats. A must-see for Albion Theatre.
"The Phoenix Lottery" opened on Thursday, Oct. 3 and has three more showings: Oct. 4 and 5 at 8:00 p.m., and a matinee on Sunday Oct. 6 at 2:00 p.m. in the Herrick Black Box Theater.  Tickets are $2.
Photo by Hannah Litvan