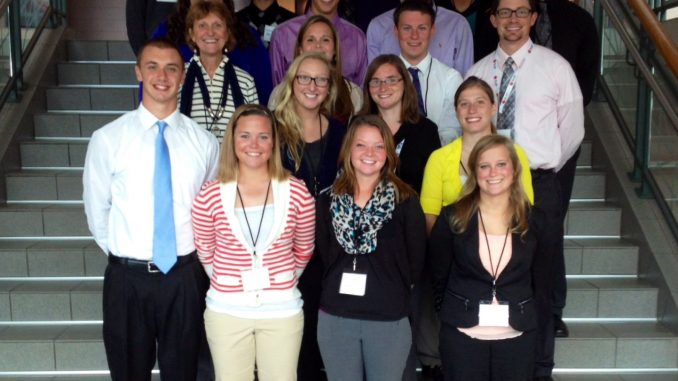 Hundreds of athletic training students added with one symposium equals thousands of new connections to be made and information to learn.
On Sunday, Oct. 13, the Albion Athletic Training Program took 17 students to the Michigan Athletic Trainers' Society Student Symposium in Grand Rapids. The Brits met with other athletic training students from all over the state to learn about new approaches and techniques to athletic training through interactive lectures and hands-on activities.
"We wanted to provide opportunities for students," said Scott Michael, program director for the Athletic Training Program at Albion. "They were able get together and be exposed to different talks and sessions and also to network with different certified members of the program in our state."
Michael opened the symposium with a talk on professionalism, encouraging students to challenge those who try to falsely define them. Students should instead make something of themselves in the professional world.
"Scott's talk was great," said Kylen Bradley, Albion senior. "He gave great pointers on being professional at and away from work."
Following Michael's lecture, other presenters took the floor to inform students on different topics.
"There were presentations about how to manage stress and how to deal with sports crises on campus," said athletic training student Sabelle Nielson, Lapeer senior. "After all the speakers presented, we had a quiz bowl."
The quiz bowl consisted of two teams from each school answering jeopardy questions similar to the ones on the exam students must take in order to become certified.

"The last three years, Albion teams have finished in the top three," said Michael. "This is impressive for us with a program of only 23 students, where other schools have around 50."
This year, Albion seniors Tanner Johnson, Holly Hall, and Kylen Bradley took third place, continuing the successful streak.
"It was a great experience, but I realized I still have a lot to learn," said Bradley.
Photo courtesy of Carol Moss