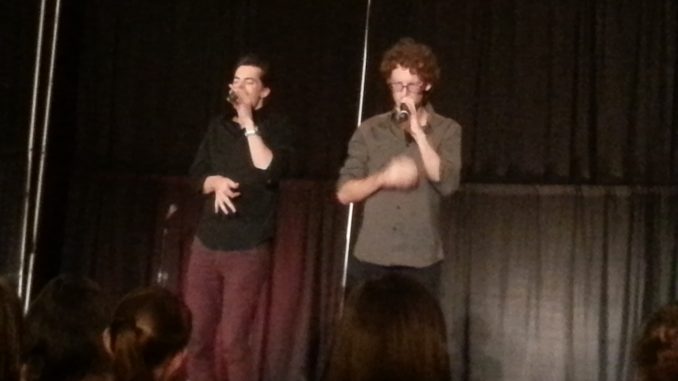 On Nov. 10, Union Board hosted the second annual Albion College Sing-Off. The Sing-Off was a competition of four a capella groups, The Bronchords from Western Michigan University, Capital Green from Michigan State University and Albion's vBella Voce and Euphonics.
Though there were four groups at the performance, even though five groups were originally supposed to perform.
"We were supposed to have a fifth group, but they backed out close to the date, so we had to do four songs instead of three," said Chris Blaker, Farmington Hills junior and president of Euphonics. "We had to throw a song together hours leading up to the performance, but it wasn't a problem."
Each group sang four songs and were critiqued by three different judges. Comedic vaudeville duo Dakaboom from North Hollywood started the show with a few skits and then preformed in-between each acapella group.
A special feature of the competition was that the audience was able to partly decide who the winner was. After the performance the crowd was told that they could text which group they wanted to win.
"What we did is set up it up so each group was Sing1, Sing2, Sing3 and Sing4," said  NAME, Traverse City sophomore and assistant vice president of Late Night on UnionBoard.  "We tallied all the judges' votes, added them all up with a one to ten scale and then added it as a percent on the computer."
Under this model, if the judges gave a group a seven, and the group received 40% of the votes and then Union Board would add a four on to the group's scoring, giving them 11.
The judges, on the other hand, had different criteria.
"What we were to look for was the arrangement of the material, how well did they put it together, was it good for the group [and whether or not] it [was] challenging, plus the performance of those pieces," said Drew Dunham, a judge for the Sing-Off.  "[We looked at] whether or not if it was a good performance and whether or not if it fell flat and had no emotion."
In the end, Michigan State University's Capital Green won the competition. The second place position went to Albion College's Euphonics, third place to Western Michigan University's Bronchords and last place to Albion College's Bella Voce.
Photo Courtesy of Josh Van Laan