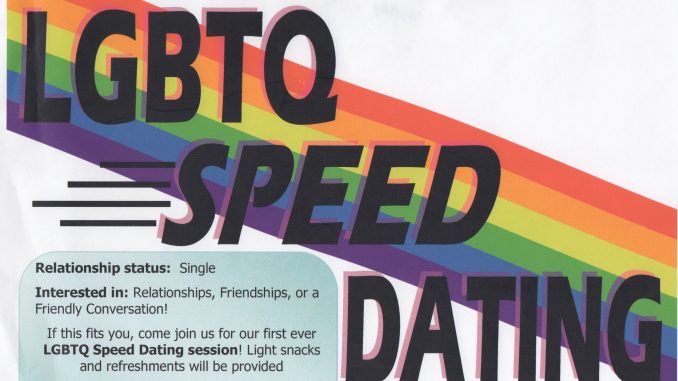 Freshman year in Wesley, there is an ice breaker game played like speed-dating. The men form a giant ring on the outside and the women form a ring on the inside, moving every two minutes to the next man.It is this very event that inspired the Office for Intercultural Affairs to put on their own speed-dating event, this time for LGBTQ students at Albion on Thursday Feb. 23.
"We were hoping for more connections between the LGBTQ students on campus. We wanted to provide more support for those students," said Rainbow Weldon, the interim global diversity student leadership coordinator.
The idea for the event started when a first-year approached Weldon to find more connections with other LGBTQ students on campus. The first-year mentioned the speed-dating event at Wesley but pointed out how heterosexual the set up of the event was. This idea snowballed into a fully-fledged LGBTQ speed-dating event.
The flyer for the event denoted that it was for relationships, friendships or a friendly conversation. The location of the event was private to protect those who may be questioning their sexual orientation or those who are not out yet. One had to email Weldon an RSVP for the location.
Eric Highers, Monroe senior, sees the event as positive progress for Albion.
"I do think that this event is something positive for our campus," Highers said. "I believe that action taken to create spaces and opportunities for gender and sexual minorities (GSM) to flourish and specifically address our community's needs is always one more chip away at our campus' exclusive heteronormativity."
There is possibility for it to grow in the coming years.
"I would like to see this event gradually made more public, possibly even consider opening it up to people not on campus," Highers said. "I would also like to see something like this happen more frequently so that there are plenty of opportunities for people to meet and not miss out on the fun."
Approximately nine people attended the event this year.
From a freshman perspective, Warner Ball, Wellston first-year, believes this event is a first step in the right direction.
"The event was fun, but could have been better if more people had signed up for it," Ball said. "An event like this is necessary because it raises awareness of the LGBTQ community."