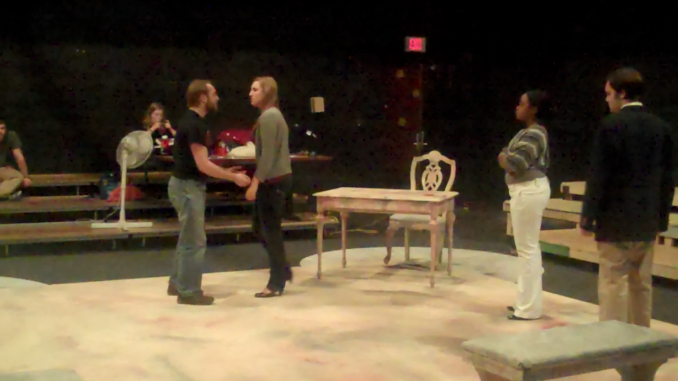 Albion College Theatre department's new play will be presented in a new way this fall. Their play, "Antigone", a modern French version of the classic Greek play, will be done "in the round" which means audience will be seated on all four sides.
The play will premieres on Wednesday Nov. 16 and will run until Friday Nov. 19 in the Herrick Black Box.
In this modern version, the main character Antigone defies her uncle and buries her brother. Her uncle forbade it because of a civil war that has just ended. After her decision she suffers the consequences of it.
Mackenzie Forester, Dearborn senior and veteran theatre actor, feels confident in the cast's ability to perform 'in the round'–with the audience seated on all four sides.
"We did our last play ('As You Like It') 'in thrust' where the audience is around three sides of the actor. We also did 'The Clever Widow' last spring 'in thrust' so I don't think it (doing the play 'in the round') will be too much of a challenge," Forester said.
Despite challenges, the play will be performed 'in the round'  in the Herrick Black Box.
"The Black Box is smaller and a more intimate place so it's perfect for this dramatic play, there's more emotions," said Meghan Bortle, Delton first-year and assistant stage manager.
From the back stage point of view, there are a unique set of challenges behind doing the play 'in the round'.
"In a traditional play there are normally six spots where an actor is suppose to be sometimes (in this play) you have no idea where an actor is suppose to be," Bortle said.
Longer rehearsal times and talented actors are the makings of what appears a successful play.
"We've been blessed with a seven week rehearsal schedule which is a long long rehearsal and the main characters Callie (Bussell) and Effrem (Grettenberger) came in with most of their lines memorized already and we've just been prepared and ahead of schedule," Forester said.
Antigone was rewritten in France by Jean Anouilh during the Nazi occupation in the '40s. It was intended to inspire nationalism in the French people, disguised as a recast Greek play to slip past Nazi censors.